Incense : Hana-No-Sho
Brand : Gyokushodo
Source : Purchased from Japan
Price : 2100 yen / 35 grams (USD $21?)
Amount Burnt so far prior to this review : 1 box
Taste profile : Sweet : +++++
Scent characteristics : Texture – Soft creamy      Binder notes – almost none detectable        Intensity – ++
Focus : Low Intermediate
Listen : Slow paced cello quartet, quiet
Difficulty Level : Low
Incense perception distance : 45 cm away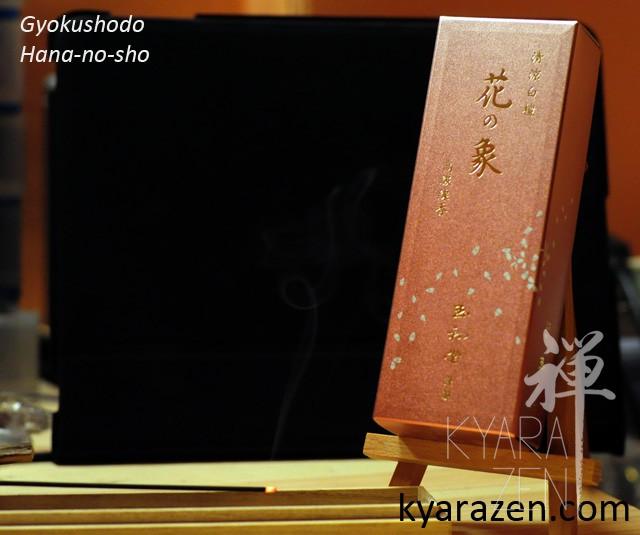 Impressions :
"Monsoon breeze
Through a sandal grove
Dew drops on flower petals. " 
The Gyokushodo Hana-No-Sho is an entry level incense into the high-end/premium No-Sho series, or the Impression series. This incense's name literally translates as "Flower Impressions", which means this incense is created by Gyokushodo to give the impression of imagery of flowers. Not surprised by the name, this incense is very sweet smelling, and carries with it a very light cool touch from the camphor content. Upon lighting a stick, it almost seemed like a breeze in the hot humid weather in Singapore right now.
These light cooling notes pulls along a very creamy sandalwood, almost like that of the heartwood notes of an old sandal tree. When combined together, its gives a floral powdery scent, that you may encounter in the middle notes when sniffing a bouquet of freshly bloomed roses.
This incense is designed to be elegant and quiet. Containing charcoal powder, the charcoal powder moderates the burning temperature and reduces smoke, thus all you get from this stick is almost pure, gentle scent.
The whole Impression series have impressed me tremendously and deeply, often to an emotion level with its ability to evoke clear impressions. This is one of the very few incense series that immediately hit me with such consciousness and clarity, that without a doubt, I believe there must have been a great incense master, or a great zen master behind its crafting. My verdict on this, if you've not tried the Gyokushodo's Impression series, you have not truly "experienced" incense.