This is Part 2 of a series on Wuyi Cliff Tea. Read Wuyi Cliff Tea Part 1 and Wuyi Cliff Tea Part 3 – A Tea Maker that cannot be helped.
Why and How is Wuyi Tea "complex" today? It is hard to summarize everything into a single sentence, but I'll let the photos take you on the journey to understand this issue.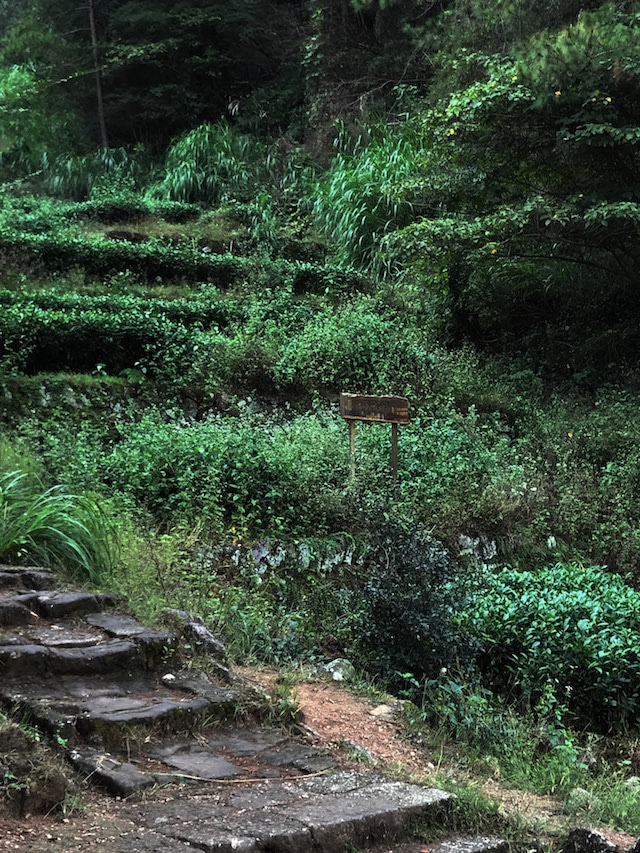 This Year, it was published in an inflight magazine that Rou Gui from Niu Lan Keng went up to 96,000 RMB for 1 Jin (500g). They call it Niu Rou or (Beef), whereas today we're on a climb up to Ma You Yan (Horse Head Cliff) which is also famous for Rougui that they call Horse Meat. Just tens of meters up the path and one can see some bushes with a signboard that has a Company name on it, claiming ownership.

And so this is the larger patch which is not very far from the beginning of the climb. All Rougui Bushes. Strangely lush green when they should be dull green during this season. As you can see problem number 1.. there is just only so many bushes.. how can a Company,  produce hundreds of kilograms of Horse meat from just these few row of bushes (that might not even belong to them?). And hint hint, Problem 2 can be seen here, this is not the most optimal place to grow tea, although it is on the foot of the mountain, the tea plants are too exposed, way too much sunlight, and the mist and "essence/qi" of the place is very diffuse.  Problem number 3 can be described here as well, probably excessive use of nitrogenous fertilizers etc, these bushes are too lush for a winter season. Problem number 4, these bushes look extremely juvenile, and very young, tender.. how can these tea plants produce character?!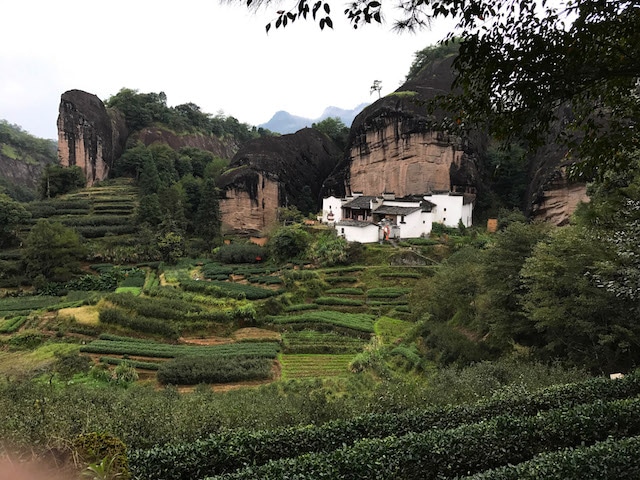 Ascending up towards the Taoist Temple of Horse Head Cliff. This is where "horse meat" is supposedly produced. Whilst this photograph may look really nice.. and it shows how the rocky formations and peaks are like fingers, and the tea plants are in the middle of the palm, in some way creating some "focus". But..wait!! Weren't we supposed to expect homogenous and beautiful rows of well lined tea bushes? Why are there so many different rows, and different patches of colors at Horse Head Cliff? Well well well… that is because the reality is that no single person nor company owns this region. Each patch is owned by different people/companies. The duller and darker green, taller plants here are Rougui tea plants, the brighter green shorter plants are Huang Guan Yin etc. And you guessed right, each location in Wuyi now, many different species are planted. So Horse Head Cliff you can find Shuixian, Rougui, and many other species.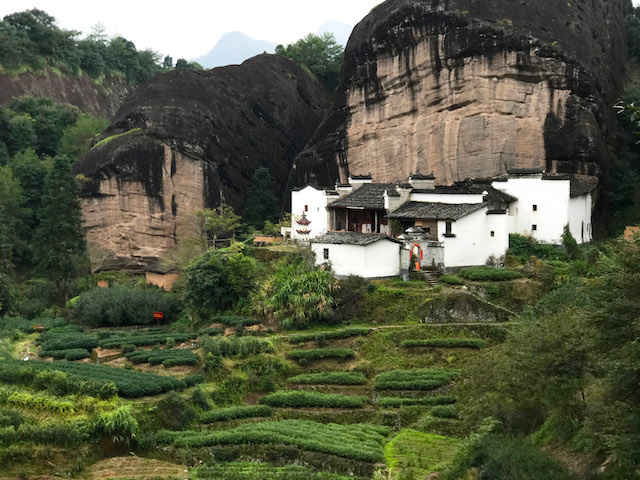 At some parts of this cliff, some families might just own a single row of tea plants. Five plants, one owned by each family member. We cannot deny that this location is superb, but when each plant or row is owned by different people, it is very hard to mass produce tea. With so many different species, it complicates matters as well. Distinct farming habits occur too, some would use fertilizers, some wouldnt, some would irrigate, some even would use pesticides.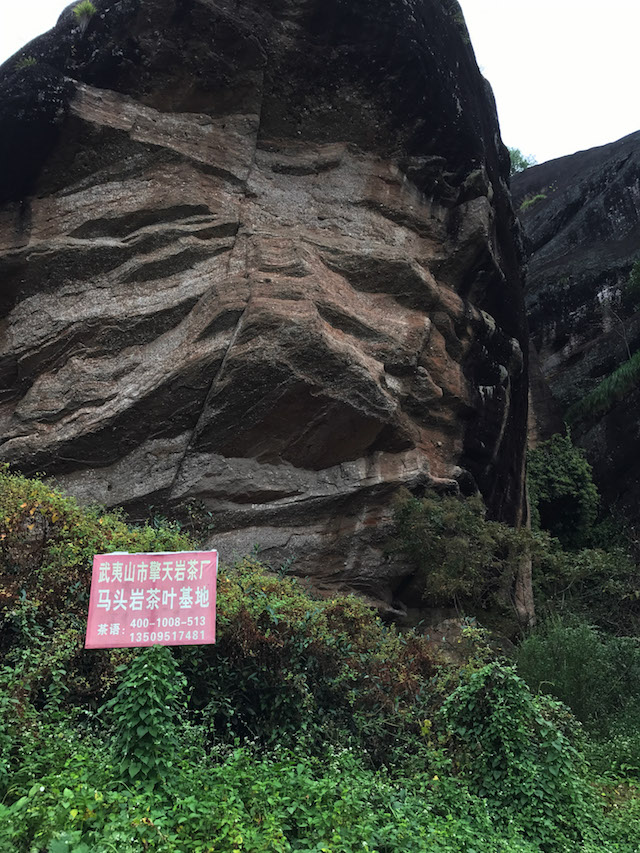 As you walk through the whole tea trek, you will get to see hundreds of such boards. Like how this company appears to claim a patch of seven bushes. The truth, they do not own the tea plants. They simply rented the billboard space for an annual fee.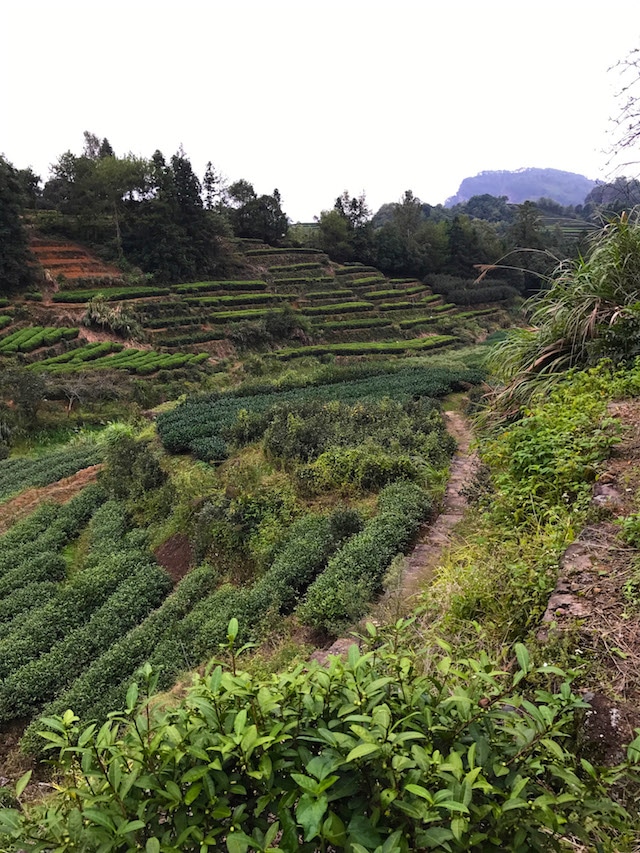 As you can see, multi shades of green, and diverse ages of tea plants, some very young, some old, many different species.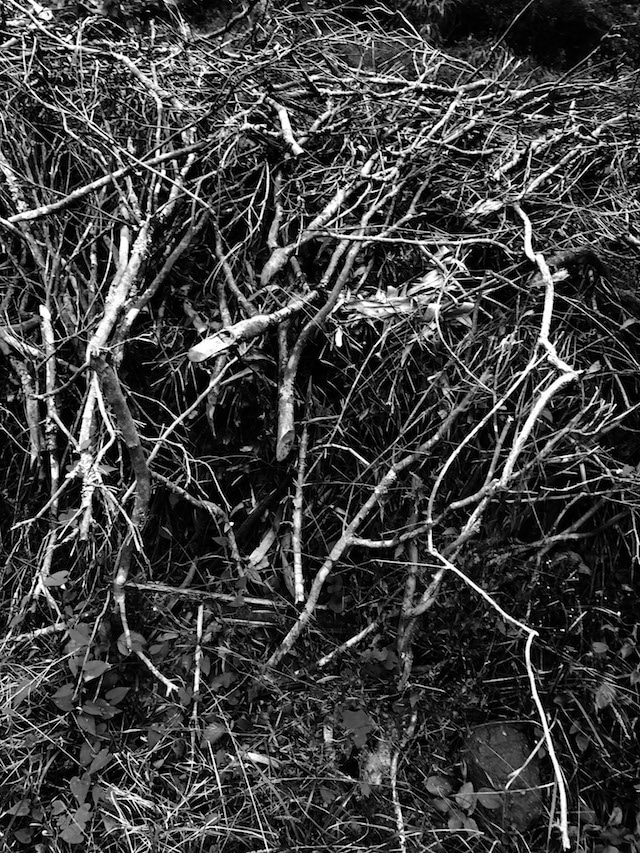 You will also encounter patches where all the old tea trees are all chopped down, and the ground reploughed. This is because the older tea tree species might just be too variegated, too many small varieties, slow growing etc, and the owners would rather clear them out and replace them with a fast growing single specie that brings better money, like Rou Gui.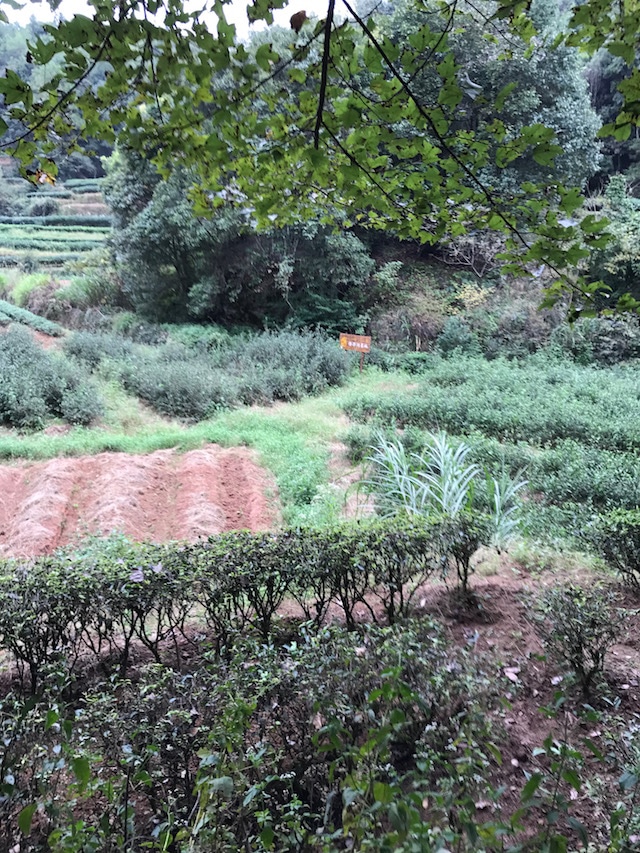 Such small feeble plants..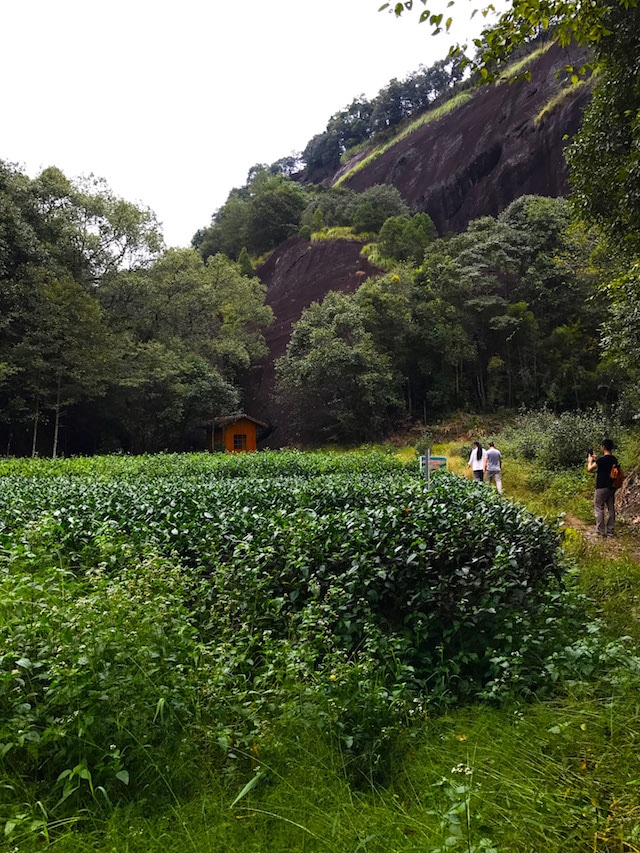 HeY! who's that on the right? that's actually Chen from Dongding Taiwan, he joined us on this trip to seek inspiration and to better understand how things are going on in Wuyi. There are some century old tea plants in his tea garden in Nantou, Dongding, and they originated from the Wuyi Mountains.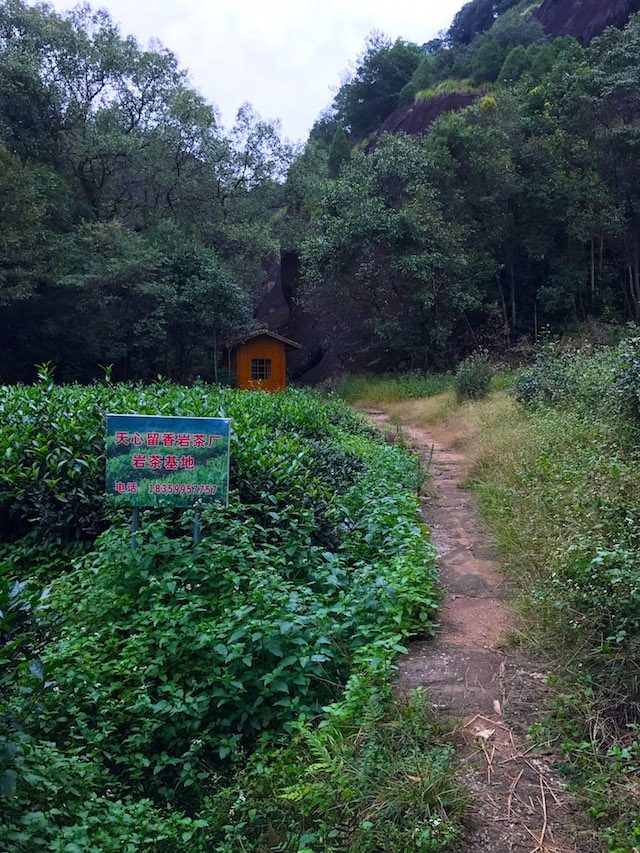 And there is another sign board…..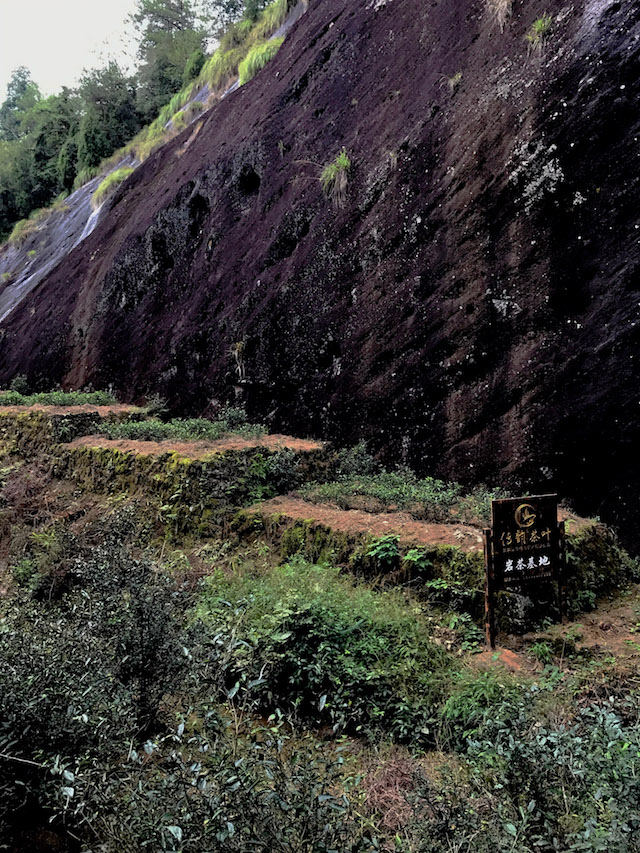 And another sign board.. with tea plants so small and juvenile.. that I wouldn't even dare pick the leaves at fear of killing them.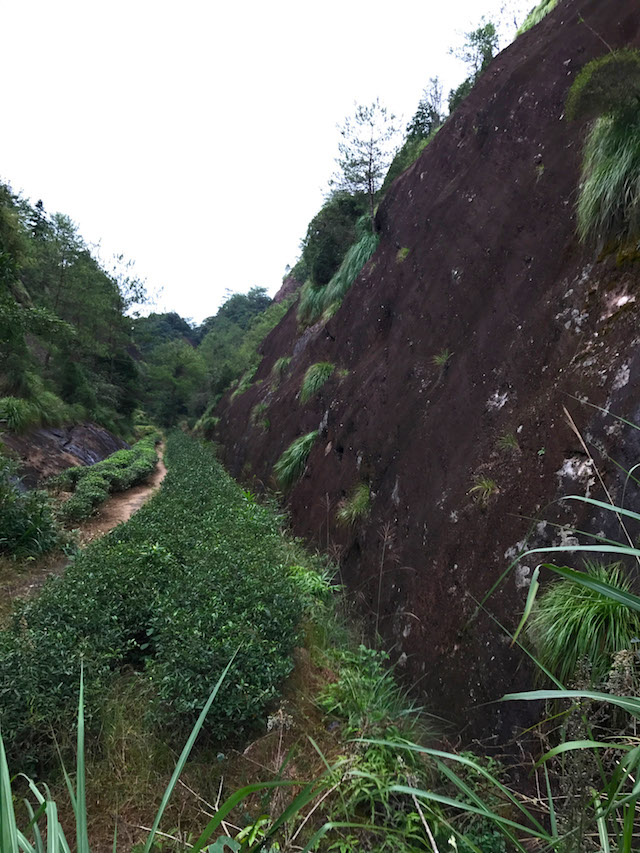 Oohlala! Now we're talking business, an excellent row of a homogenous tea varietal along the side of the rocky formation.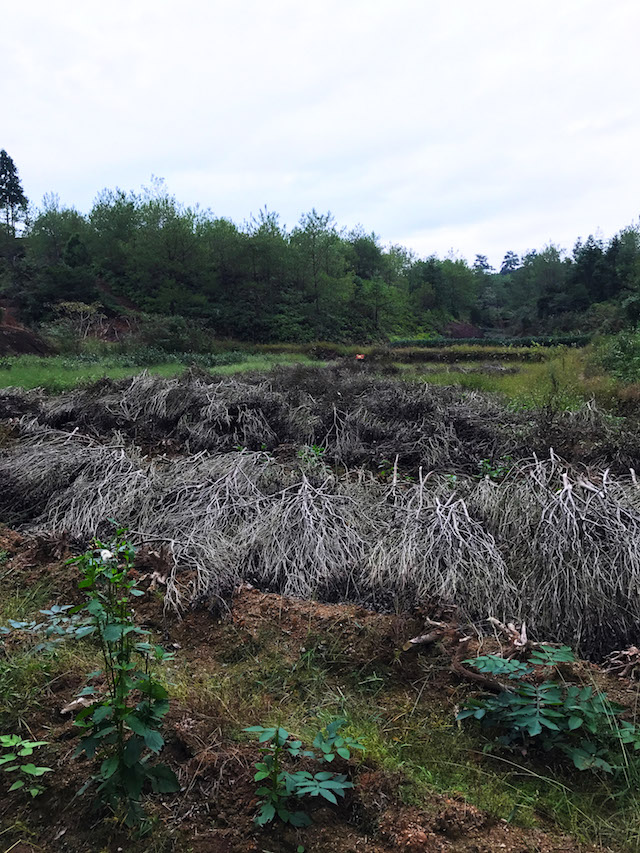 And ouch…. another patch is being cleared.. what a waste of such old trees…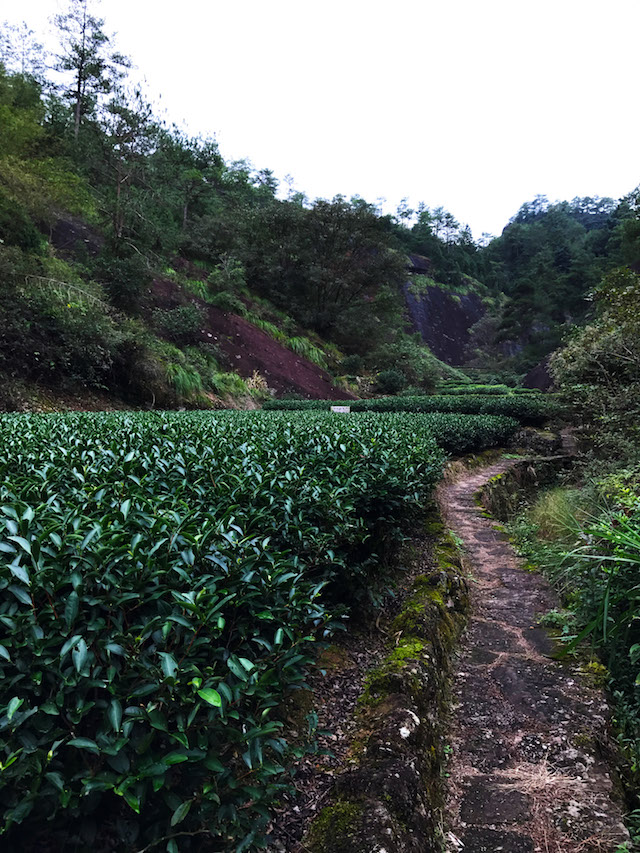 Finally reached a patch of homogenous Rougui plants, these are not superbly old, well maintained though and with good use of fertilizer. Plants look a bit pre-pubescent. And do you want to guess the price of Rou Gui fresh leaves from Horse Head Cliff? Approximately 600 RMB (USD 90) for 1 Jin (500grams) of raw fresh leaves in Spring. It takes 5 Jin of fresh leaves to give about 1 Jin of final tea product, so if you do the math, the cost price of proper Horse Head Rougui, excluding labour and all other costs, just simply the raw leaf price will be at $450 USD/500g. That is the going-rate, and don't expect to find a bargain at all. Demand outstrips supply. If you have access to cheap tea from these regions, then you may have to think twice.. the farmers and tea makers are not stupid to make a loss.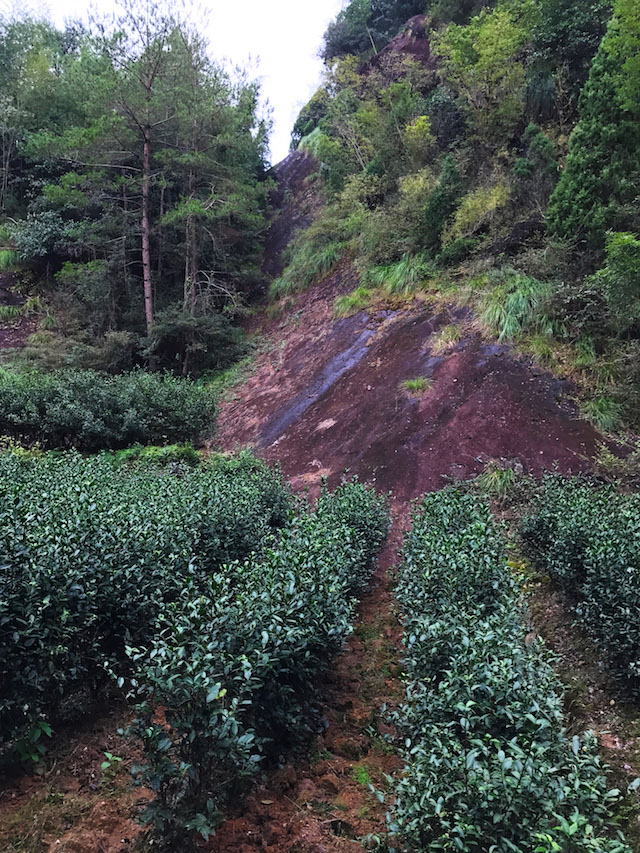 Proper Wuyi Soil is sandy, it does not hold much water, and the color tone is reddish brown. If the color becomes pale, or yellow, that would mean severe leaching which is bad.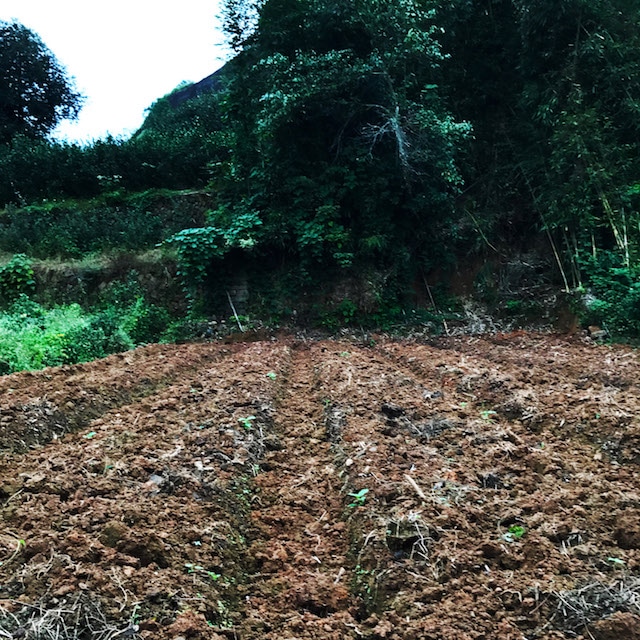 At some parts, due to bad farming practice, the clay/soil from the side walls are scrapped down and laid all over the patch, this is not sustainable.. and will ruin the site over time.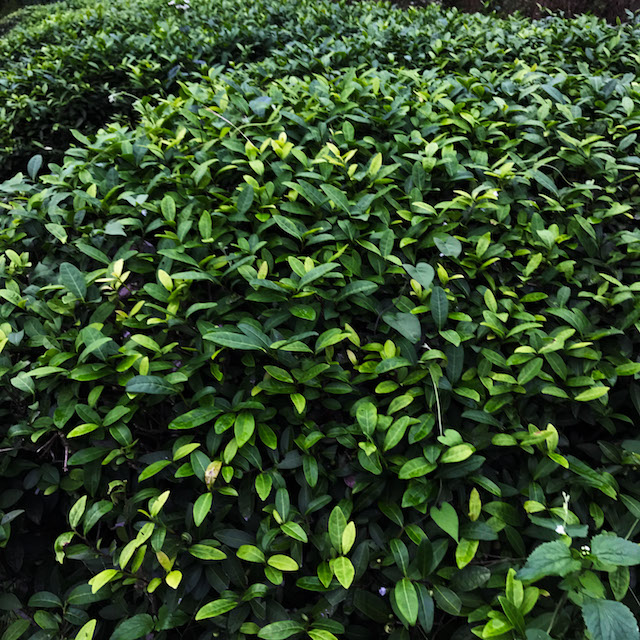 Fresh, tender leaves.. just so young…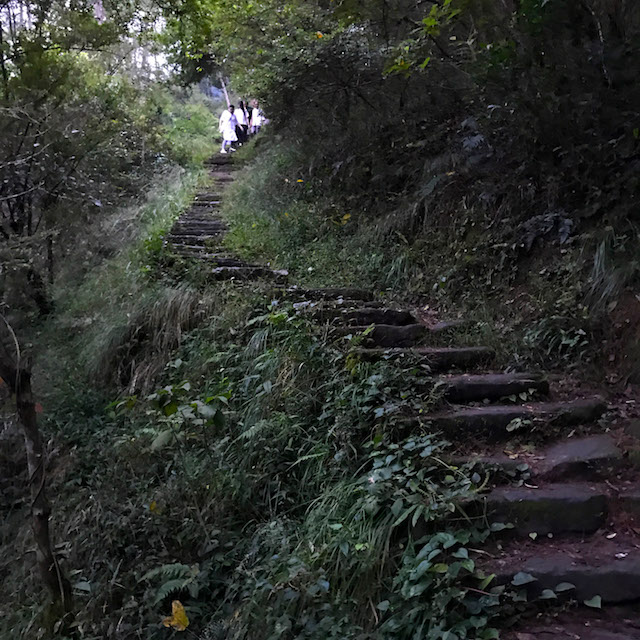 The Way Down…
So what do all the tea plant owners do, having owned so few bushes? Well, during Spring time, they just get someone to pick the leaves and get the raw leaves sold for money to collectors that will mix and match the leaves with other leaves obtained from tea plants in the same area. The buying price is not low and many are happy with this arrangement. Other more impatient ones will convert their plots to shuixian or rougui species for faster and larger returns.