If you are a meat lover, particularly that of beef, you should know the cuts of your meats really well. Similarly if you are a fragrant wood lover involved in either Japanese/Chinese or other forms of incense practices/ceremonies, it is just as important to know the cut types, and how they are obtained.

The above three forms of fragrant woods are often the "cheapest", and there are several reasons why. For powder, adulteration is easy by adding inferior or other wood types to be ground into powder, and this is difficult to grade unless one performs microscopy on the material or if one is able to detect differences in intensities. Similarly, fine and coarse granulations are generally considered to be the lowest cut grade as they are contributed to by a large diversity of scraps, and many times have complex burning profiles due to material contribution from many sources and grades. There is a joke that goes around local agarwood traders that such grades are often swept from the floor at places where fragrant woods are processed, with the powder being sieved out and the rest as the residue. Often or not in scraps, one can pick out varying grades, from fibrous materials, to resinated ones. Despite these points, there can be really good quality granulations and powders if the makers put good effort into the making of, as good granulated fragrant woods are used in making japanese sho-koh blends that are used in various religious practices.
Cut type 4 is described as small leaf due to the thin, but resinated nature of the wood chips. From cut type 4 to 6, there is considerable increase in quality and price as the pieces are larger, with good resination, they can have rather consistant scent profiles for each piece. In a simple ten gram package you might get hundreds of small pieces of Cut type 4, or two to three pieces of cut type 6. Having hundreds of small pieces would often mean complicated,  non-uniform scent profiles.

Cut types 7, 8, 9 command a special price range, some times above other regular cuts because of the unique formation methods and unique scent profiles. Horseshoe styled chips are often found as horizontal formations in the trunk of a tree, some of them can be really old if near to the heart of the tree. Shell types are many times found nearer the surface, it can be formed by shallow holes made by insects, broken branch areas, near joints etc, and due to exposure to the enviroment, can adopt a more "ripe" fragrance. Cut type 9 is particularly popular in China now, where insect or worm burrowed agarwood are perceived to be superior, the infection mechanism and the "response" of the tree to such insects create a more complex olfactory profile than regular formations.

Cut types 10, 11, 12 are the most premium fragrant wood cuts. In principle these cuts are all obtained from a single piece of wood, a large agarwood log, and if used in mon-koh, provide consistent olfactory profiles. They are not random cuts obtained from the surface of logs nor cut from smaller chips, if you obtain your material from respectable incense companies. Below, you can see an image of how the horizontal cross section that was sawed from a large agarwood log is being cut into shapes with the use of specialized cutting tools. The squares and fine cuts are achieved with the use of a chisel and a mallet. A proper set of these tools can cost up to $10,000 or more for a set. Cutting fragrant wood is serious business, at least for the Japanese.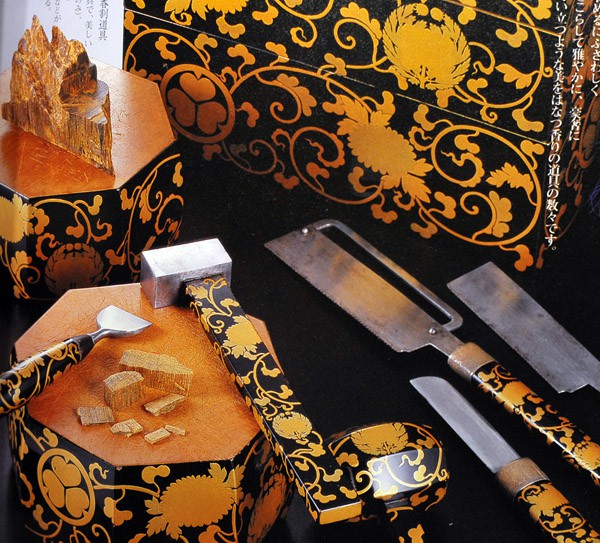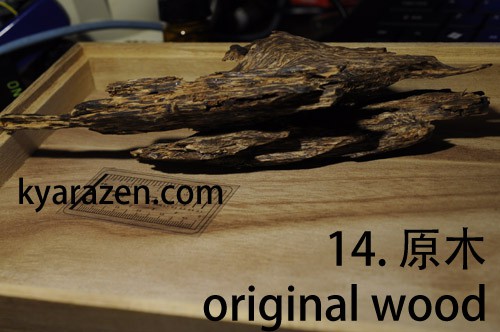 and of course the best grade to purchase is always a large piece of fragrant wood in its original state, shaving off little bits whenever needed for mon-koh. A large piece of fragrant wood that is good, can be given a name by Kodo-masters, and greatly appreciates in value if the wood has an olfactory profile unique to only this piece of wood.