Japanese Incense types can be classified into two main categories, 熏香 (heating incense), or 焚香 (burning incense). A smaller third category exists, where incense or fragrant materials are not heated nor burnt at all, with the fragrance appreciated in the raw form.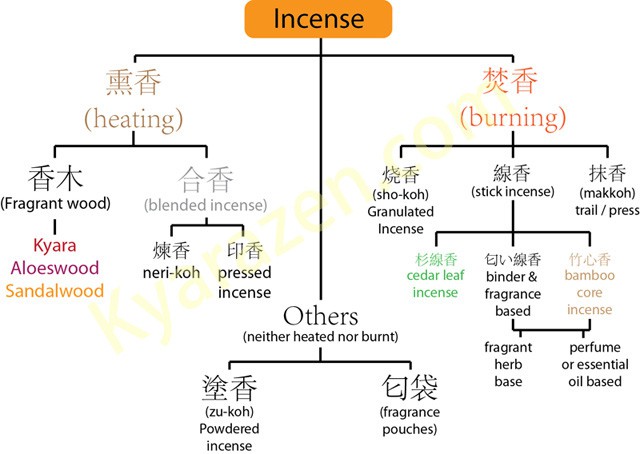 In the category of heating incense, a piece of red hot charcoal embedded under ash, is used to gently heat the fragrant material. The smoke from this process is gentle, sometimes almost invisible. At the end of the heating process, the fragrant material becomes charred to a crisp, no ash of any sort is created.
Under the category of burning incense, fragrant material is directly combusted, either with the help of a red hot coal, or binder in a self sustaining burn like that of an incense stick. The smoke from these processes is usually more intense, thus able to achieve larger area coverages, but sometimes a bit too intense for enjoying at close distances. At the end of the burning process, all fragrant materials become ash.
熏香 (Heating incense)
This can be divided into two sub categories, fragrant wood and blended incense.
Fragrant Wood
As previously described in the Kyara appreciation article, fragrant wood is generally enjoyed "Mon-Koh" style, where a small sliver of high quality fragrant wood material is heated in a kodo cup by a piece of hot coal through a layer of ash and a mica sheet. Sandalwood, Aloeswood and Kyara can be enjoyed individually through this method.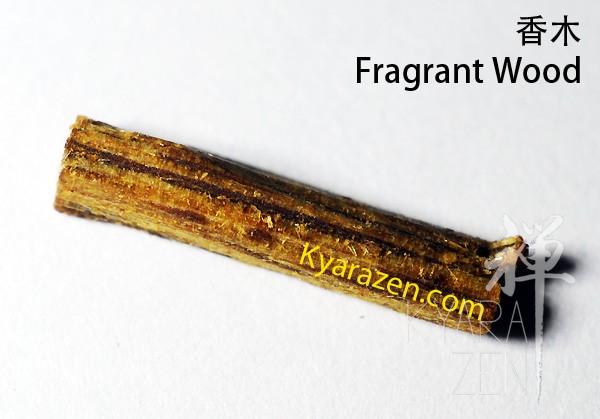 Blended Incense
Under blended incense, Neri-koh is made from kneading mixtures of fragrant powdered raw materials with honey or the dried flesh of the japanese plum, often in very careful proportions, and can be aged for years to maturity. The end result is a well blended/amalgamated fragrance when neri-koh is heated. Pressed incense, the second type of blended incense, can have very adorable shapes and sizes, and often are made of fragrant raw materials, essential oils etc.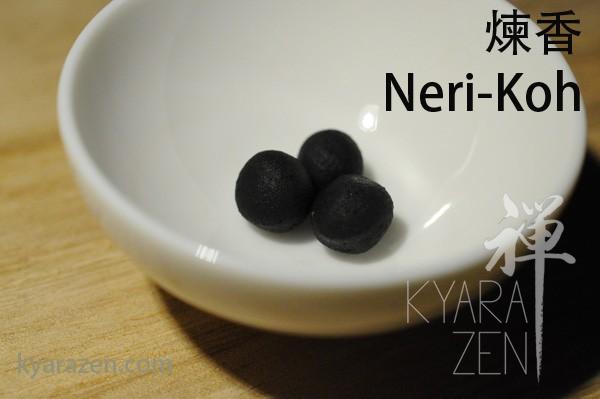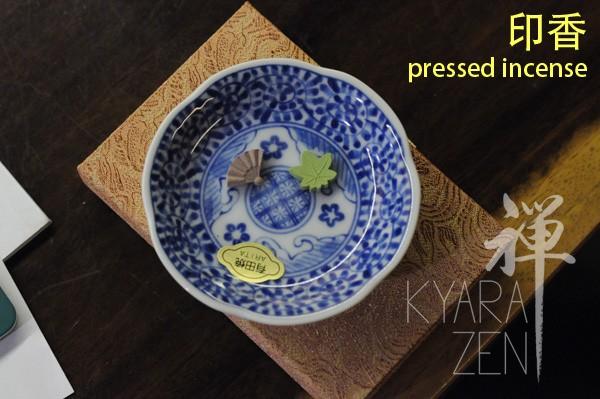 焚香 (burning incense)
Under the 焚香 (burning incense) category, there are 3 sub categories, sho-koh, stick incense, or makkoh-trails.
Sho-koh
Sho-koh is made from chopping or blending fragrant materials into fine pieces in careful proportions. Meant to be burnt directly by sprinkling onto a hot coal instead of gentle heating, the sho-koh process generates quite a formidable amount of smoke, with the ability to fumigate places, temples, rooms etc.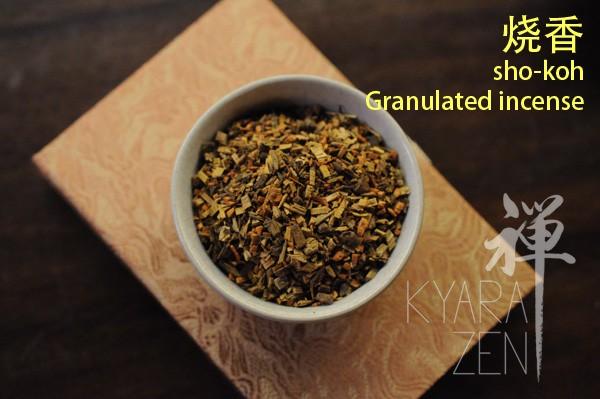 Stick Incense
A more accurate direct translation for this incense type would be "line/string incense" instead. This is a very large category as most of the incense used today are in these formats. Long sticks (lines) of fragrant material, self supporting, can be lit on one end and have it slowly burn by itself, providing fragrance over a long period of time, unlike other incense types i.e. sho-koh where fragrant material have to be constantly re-added to sustain the burn. In this category there are 3 sub-types.
The first is 杉线香, or cedar line incense, pretty much a "domestic" only Japanese incense. This incense is made from the grinding and milling of selected cedar leaf needles into a paste and then drawing the paste out into incense sticks. No binder or other fragrant materials are added, with the incense being purely made from cedar leaves.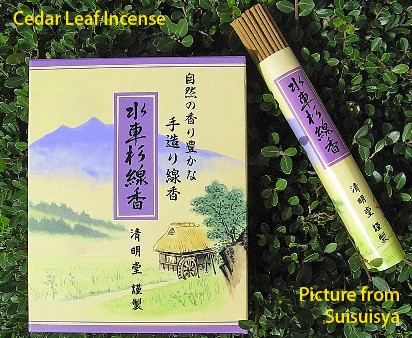 The second type, Binder based incense dominates the incense stick market in Japan and many other parts of the world. Made by mixing binder powder (the ground bark of the machilus thunbergii tree) with powdered fragrant materials and water, the mixture kneaded like dough before being drawn into incense sticks before allowing to dry in the shade. Activated charcoal powder can be added to moderate burning temperatures and reduce the smoky/spicy notes from the binder powder. Cheap stick incense can be made by creating a pure binder stick before dipping into synthetic essential oils, whilst expensive incenses often are pure blends of high quality fragrant materials with as little as 10% binder or less. Many different shapes and sizes exists, such as incense coils, cones, etc.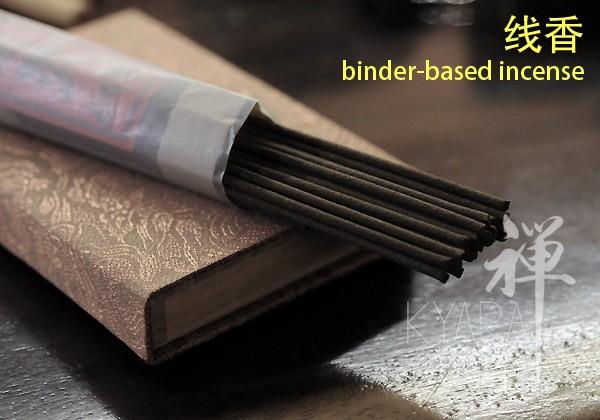 Bamboo-cored incense, the third type, is increasingly rare in Japan but remains very common in China and India. Instead of having binder powder that helps the fragrant material burn, a bamboo core is used instead to help with combustion. In the making process, fine bamboo sticks are dipped into water containing a very light glue, i.e. tapioca starch base or similar, before having powdered fragrant raw material sprinkled over before allowing the glue to dry. The process is repeated till a good layer of fragrant material powder is deposited all around the bamboo core and can range from a millimetre thick to several millimetres in thickness. These incenses can be of decent quality, but sometimes are regarded as inferior as the burning bamboo note is hard to hide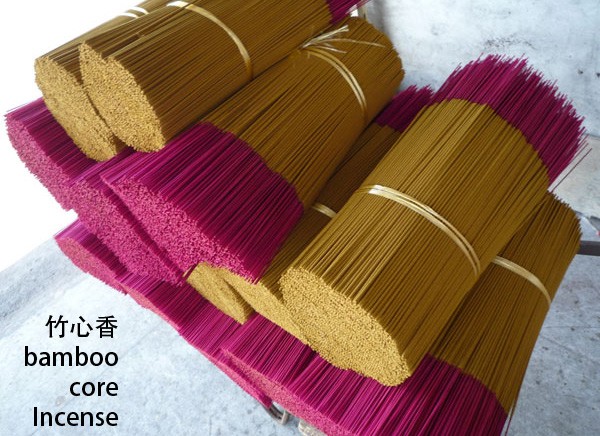 抹香 (makko-burning)
Makko is the incense binder (the ground bark of machilus thunbergii) that is used to make incense sticks. However without making incense into different shapes and formats, makko can be used on its own, to help ignite a trail of fragrant raw materials.
This is achieved by laying makko powder in a trail or an impression with the help of special wooden presses/shapes. The makko powder is then lit on one end, and fragrant raw materials can be sprinkled on the trail. Granulated incense can be used as well without the  need for a lit piece of coal, and this method also eliminates the need of constantly needing to add incense materials to the coal unlike in sho-koh. The intensity of the smoke is lower, but binder notes may show up and affect the enjoyment of fine fragrances.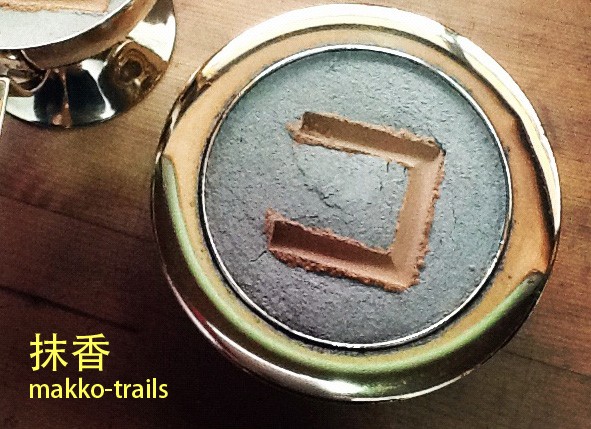 Of course not all incense has to be burnt. In Japanese incense culture, there is zu-koh 塗香 and fragrance pouches.
Zu-koh 塗香
Zu-koh is made of very finely powdered fragrant wood and herbs and is used as a powder to clean one's hands. With its origins from Buddhist culture, Zu-Koh is often used by the religious as an act of cleansing oneself, one's hands before entering a place of worship, or handling some religious/sacred materials.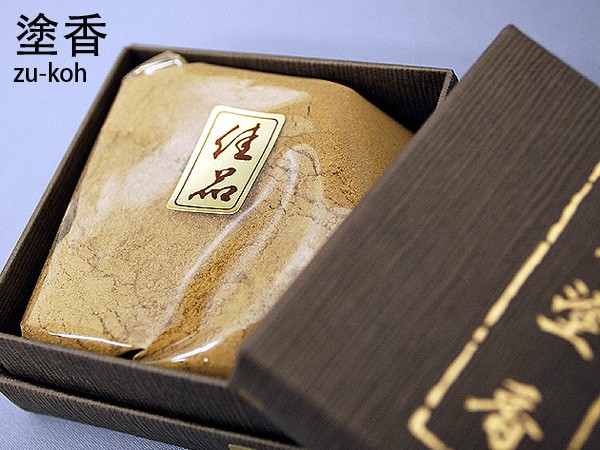 Fragrant pouches 
These are intricate cloth bags containing fragrant herbs, woods, usually in granulated forms, and are carried around to provide fragrance, or hung in various places, be it the closet, cupboard etc, like a japanese equivalent of the western potpourri.