Dating back to the Western Jin dynasty, and re-published in Song Dynasty and Ming dynasty records before it faded away, the ancient Chinese appeared to classify aloeswood by the following terms 蜜香, 沉香, 鸡骨香, 黄熟香, 栈香, 青桂香, 马蹄香, 鸡舌香.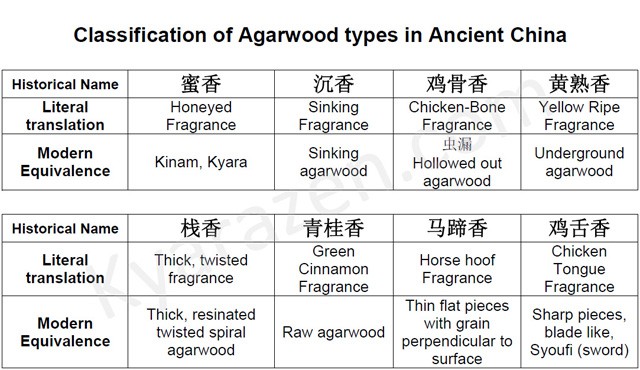 There are serious flaws in this ancient Chinese classification despite it being very commonly used in sales pitch and marketing today. These classifications apply generally only to the external physical shapes and properties of the wood, with nothing much mentioned on the scent profile, localities, speciations, tastes, textures and other perceivable properties of aloeswood!!
So for interest sake, I've presented a translation here, sometimes the description of the original texts were too vague, and thus were mildly interpolated to modern equivalents to the very best means possible.