Having had purchased and sampled and studied countless incenses from all sorts of origins over the years, it soon became a personal challenge to create incenses that are both artistically inspired, and olfactorily able to match up to commercially available premium incenses. Painting images for others by the scent of a burning incense stick is a personal aspiration.
For the past two months' hiatus from writing; blending and making incense sticks was a daily affair. It was a humbling journey creating hundreds of blends and throwing most of them out.
There was a clear disjoint between the heated scent of some herbs versus the burning scent. This was further complicated by the unknown and unforeseen interactions between herbs, fragrant woods and other incense ingredients themselves, obscuring, outshadowing, competing, antagonizing.
The bottom line, combining lots of the best ingredients does not give the best incense sticks at all. Far from it! Often or not, kneading incense dough carried on into the wee hours of the morning.. like almost 2am pictured here, after which the next couple of hours would involve careful extrusion of the dough into sticks for drying. But it was fun. 🙂 Here are some pictures of the process :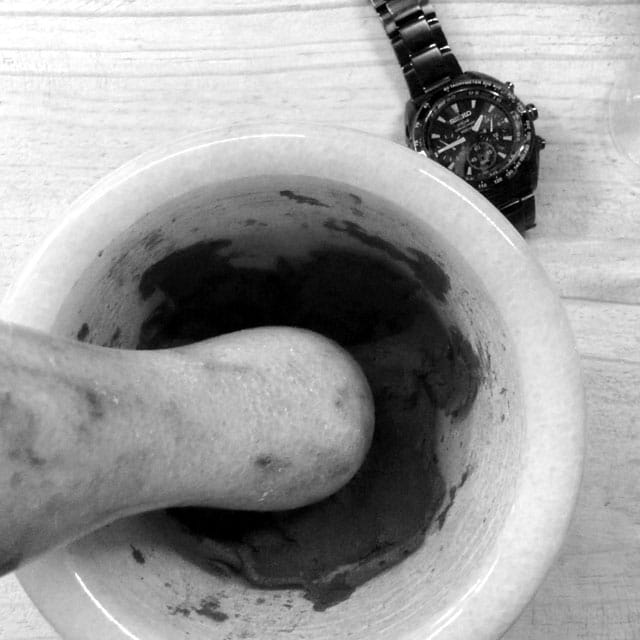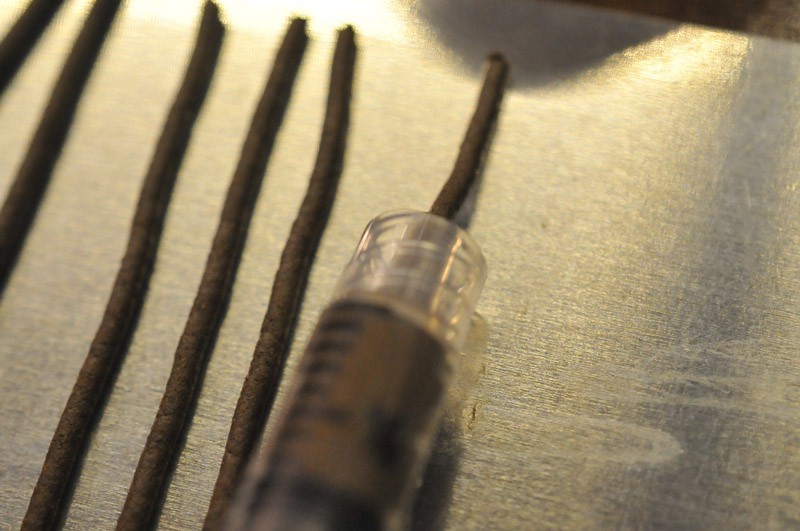 Having achieved the right consistency, the incense dough is then extruded through a small syringe in a rather primitive fashion.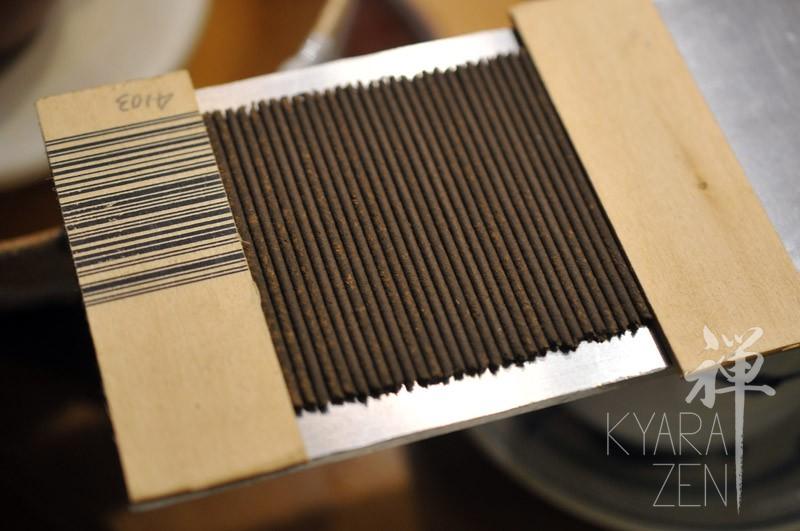 Tedious! But it was always a small sense of achievement when one reaches this phase. nicely aligned sticks that had been cut to size after extrusion, ready for drying. Dismay then comes in many forms, such as as pictured below, testing and assessing the quality of the blend and recipe by burning a stick to have realized that the desired objectives and profiles were not met.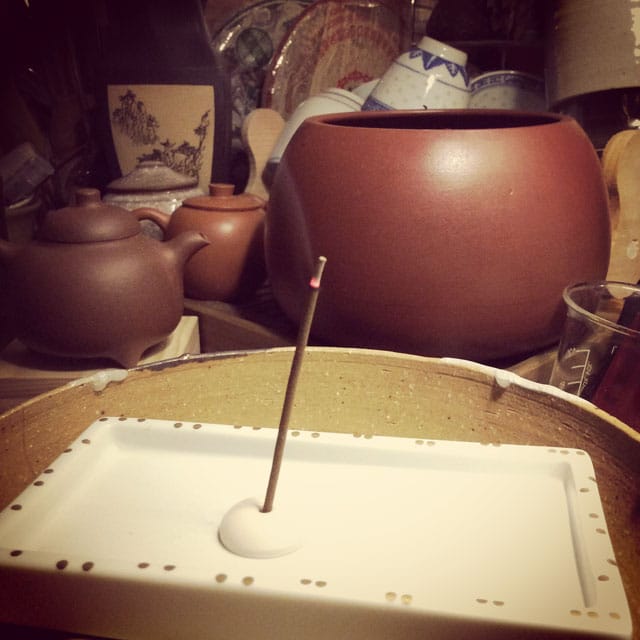 A manual hand crank, but stainless steel extruder was a superb "God-sent" item, apart from the improved compression and compaction of the incense dough, it was possible to extrude very thin sticks of 1mm thin. With gratitude 🙂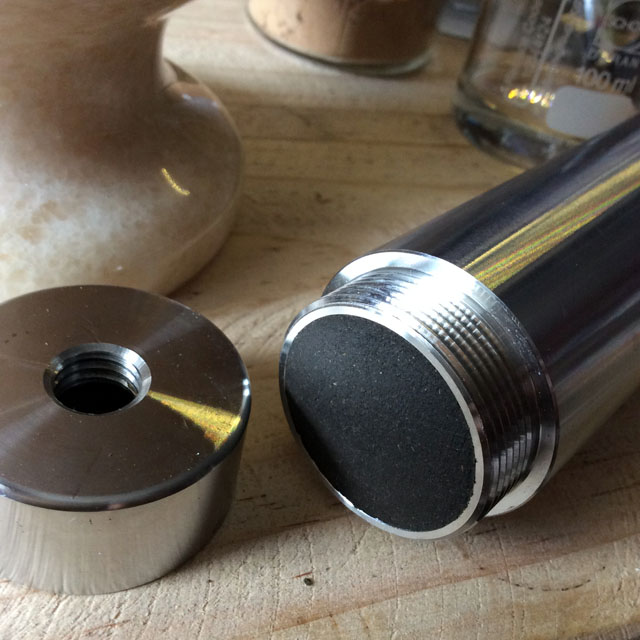 Compacted incense dough in the extruder.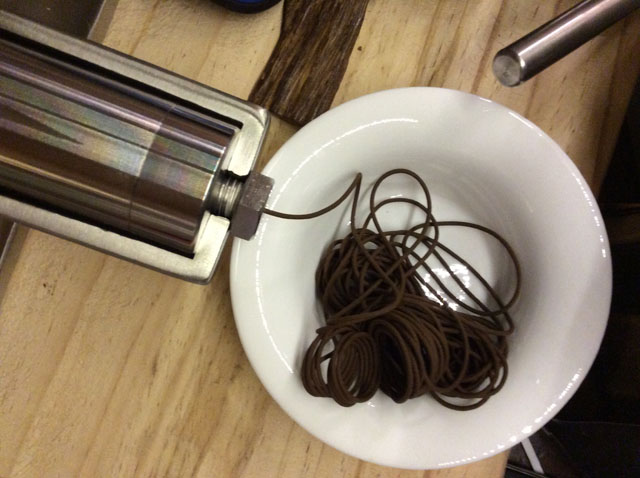 Extruder in action, churning out a continous length of 1mm thin incense.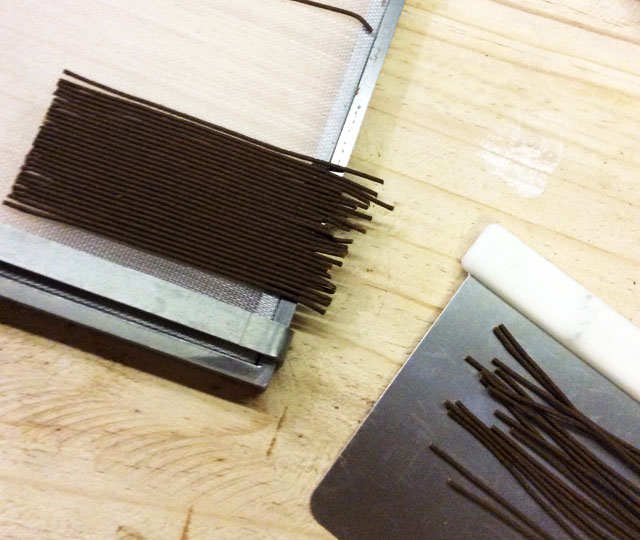 Cutting the incenses to length and aligning them for drying.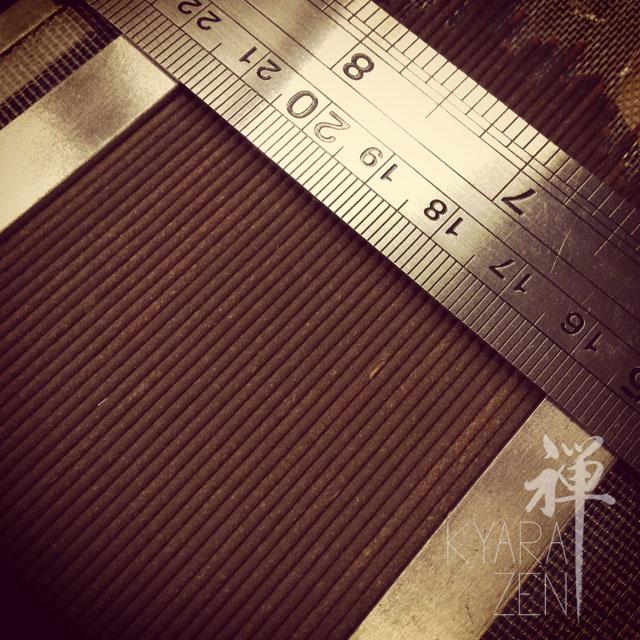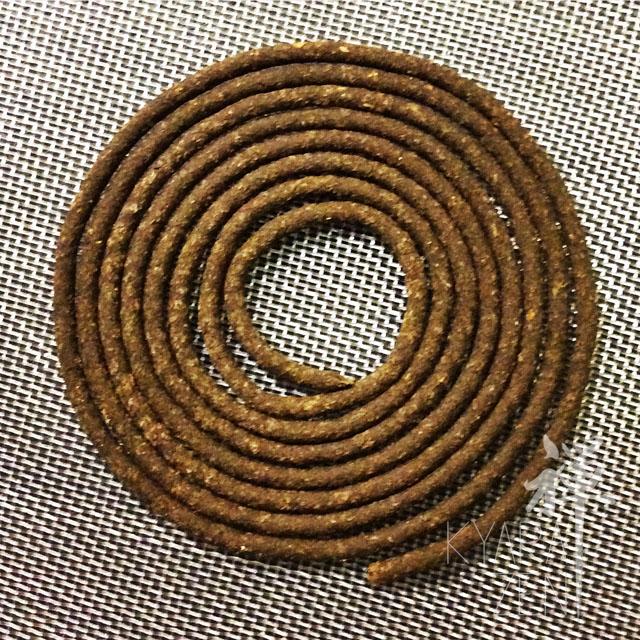 There were also attempts to make coils by hand.
All in all in all here are some of the blends and recipes that had emerged from the grueling processes, recipes that I'm happy with and brings a smile to my face whenever I light them.
温故 – Enko, a name derived from the chinese proverb : 温故知新, which means by revisiting the old, one learns new things. It was made with the thought and memory of visiting an old friend, the late Mr Lee at his medicinal hall. The first generation of this incense was a sophisticated series of warming herbs surrounding a rare exotic core ingredient, 20 years aged mandarin peels obtained from Mr Lee. It resulted in a very energetic stick, warm and joyous, easily filling the room with its presence. In the later generations of it, the recipe was tweaked with a few other ingredients, finally arriving at a final composition that gives it a sense of warm, bitter sweet with lingering presence.
The funny thing about this incense, it is made up of so many herbs that were initially like a cacophony, a loud noisy audience, but when one final correct ingredient was added, everything else fell into place, it became a single peak, like how violins, violas, cellos and double basses in an orchestra giving a unified symphony of strings. A lesson learnt on how sophisticated incense blending can be.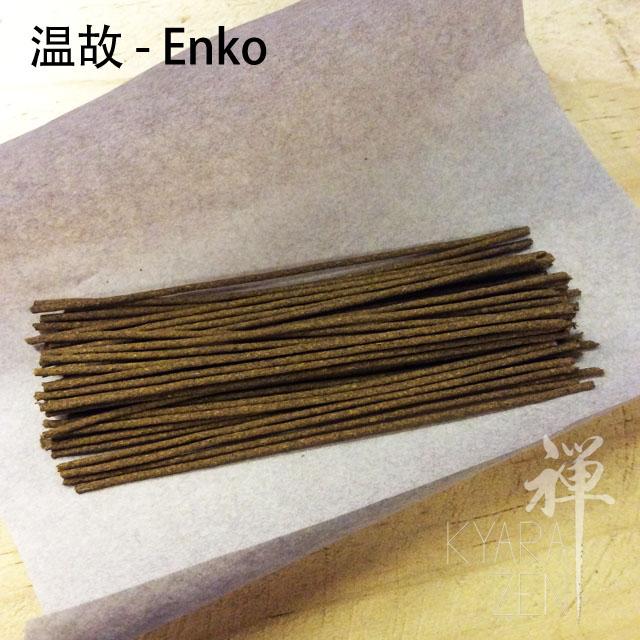 Old Sage – 老僧 was a strange image that I had envisioned to be put into an incense stick. An old round and fat monk garbed in orange brown robes, beaming and smiling. Perhaps he had been fumigated with tons of sandalwood from the incenses that people burn at his temple. The stick smells like him. 😛 In principle, Kogado has one of the best pure mysore sandalwood sticks that I admire a lot and draw some inspiration from. In Old Sage, I had attempted to present pure mysore sandalwood with a little character/twist, perhaps a tad of airiness, some earthiness, a touch of woody bitterness, an interweave of silence punctuated by gusts of sandal heart.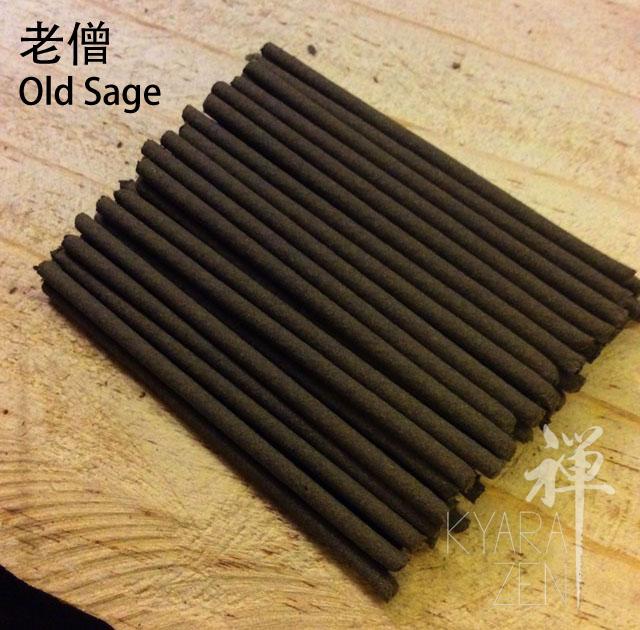 Zen Moon – 禅月 Well.. kyarazen being KYARAzen… there were also costly attempts at doing something dedicated, special and premium in its own way, like how the big incense houses have their own flagship product with a mysterious elusive air of its own. But if you do know me well enough, I only think of kyara best presented in kodo-style and not in the combusted state, as such kyara in my perspective in incense sticks should be the salt and pepper that gives life to a dish, and not to be eaten on its own! With very much time spent on the conceptualization and the actual making, and the dedicated focus during the period of working with costly materials and not wanting them to go to waste, within the 6th iteration, I was totally satisfied with the blend. The heart of this is sinking material of three northern origins at 50% total content, and carefully handground in mortar + pestle in purion clay treated water over a span of 2 weeks (30mins x 2 times a day). "Salt" and "Pepper" was added in at 5%, along with other important subtleties. The first three iterations kept self extinguishing due to the high resin content but subsequent recipe tweaking allowed me to reach a version that burns slowly and no longer self extinguish.
What I had wanted to achieve with Zen Moon is to create a special space, a hollow, omnipresent clear quietness, and the incense presenting itself in that background, weaving through the air, allowing the perceiver to experience wafts of scent like the clouds that drift slowly past the full moon in stainless light.
"If the Sun does not illuminate the moon, we do not see the moon. And if the moon does not illuminate the clouds with its reflection of the sun, we do not see the clouds. " – Kz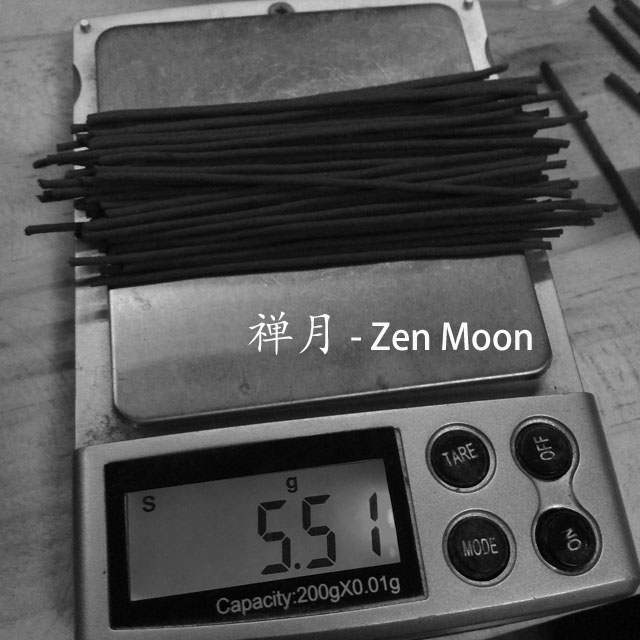 After 2 weeks of work, rare ingredients and suddenly you are hit with the reality.. what?! only 5.51grams of incense?! One or two sticks a day that amount isn't going to even last myself a month!