This is Part 1 of a series on Wuyi Cliff Tea. Read about Wuyi Cliff Tea Part 2 – Complexities and Wuyi Cliff Tea Part 3 – A Tea Maker that cannot be helped.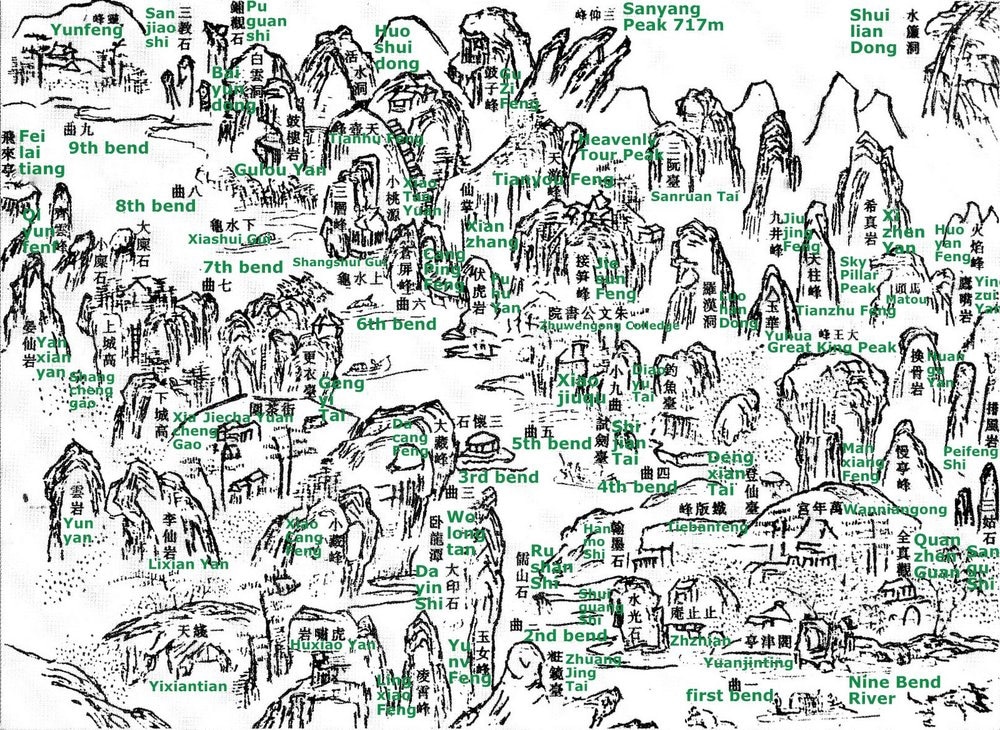 There are 36 peaks at the Wuyi Mountains, and 99 valleys are formed by these 36 peaks. Running through this, is the 9 Bend River, 九曲河. The peaks are not incredibly high, it could be a couple thousand feet in altitude, the annual average temperature is around 18 degrees celsius, it can dip to a few degrees in winter, and remains a cool 25 degrees in summer. Humidity is always over 80%, leaving the mountaineous peaks always easily shrouded in mist and fog.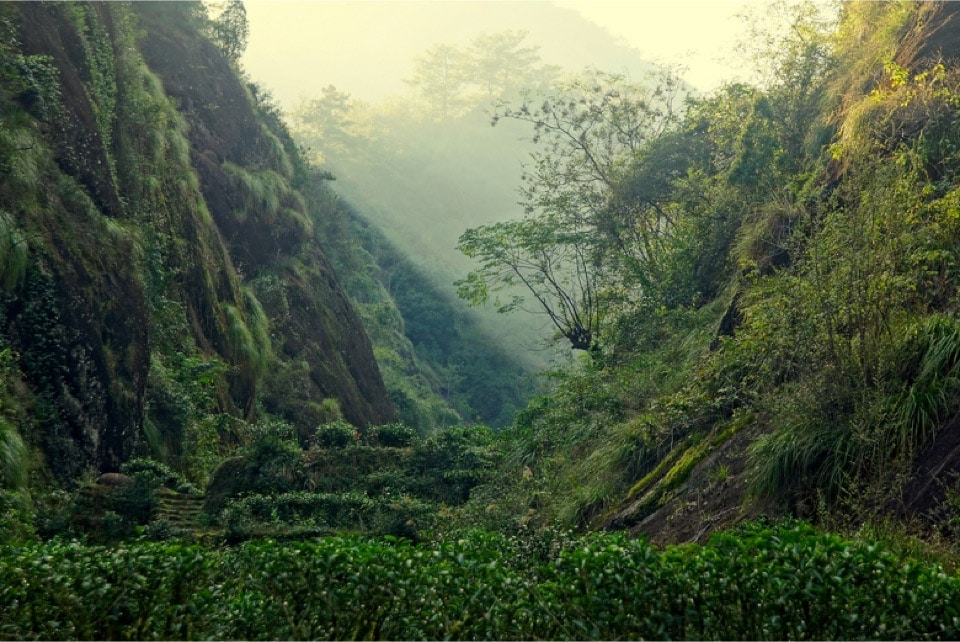 The Valleys are some of the best places where tea plants are planted. The peaks, being close together enough, cut out enough sunlight that in many areas, during summer, the plants get only 5-7 hours of sunlight in a day. The mist and smog catches on the rocks on the walls/sides of the mountains, condensing into water that flows down these rocks, enriching them in minerals and nourishing the plants in these valley.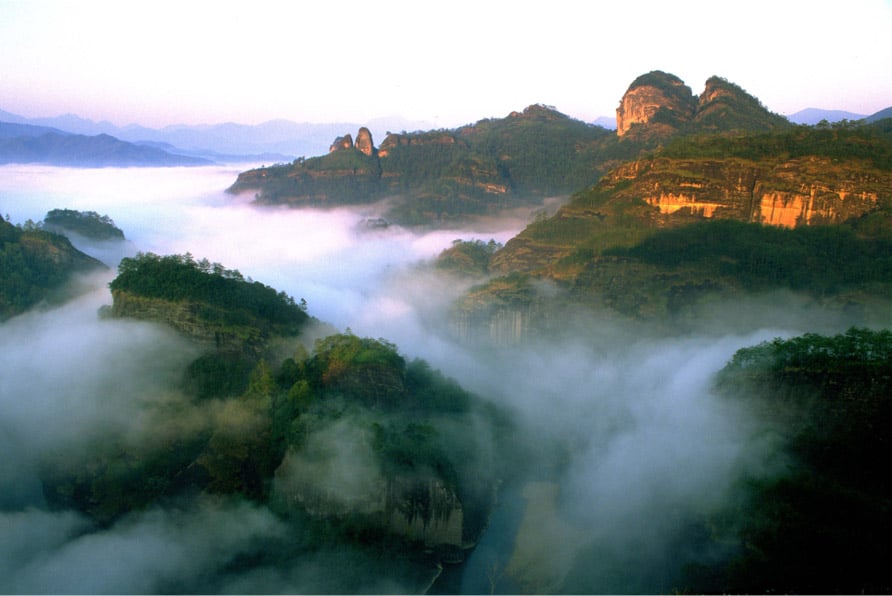 So beautiful and full of spiritual presence, essence, (灵气), that for over a thousand years, the Wuyi Mountains and its tea has served to inspired countless scholars that had made pilgrimages or even taken up residence there. More than over 200 published poems from the Tang to Song dynasty contain verses of praise for this region and the tea. Many thousands of paintings had been made over the centuries, and repeatedly done so over the past millenia. This is what Wuyi Mountain actually is, a spiritual place, a holy grail for inspiration, a place that nourishes the spirit, and tea is just one of the extensions of it.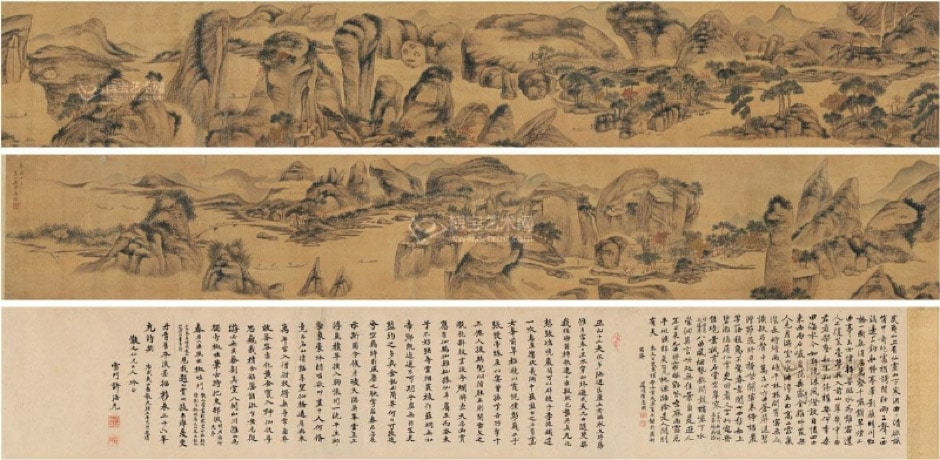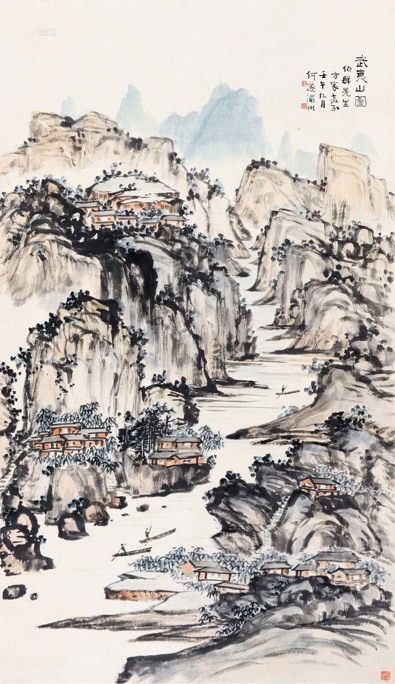 A Brief History on Wuyi Teas
Whilst there were records on Wuyi tea being consumed in the Han dynasty, clearer and stronger records appeared in the Tang to Song Dynasty. Song Dynasty Scholar, Fan Zhong Yan, in his Dou Cha Ge (tea competition song) : 溪边奇茗冠天下,武夷仙人从古载, which roughly translates as The amazing tea that grows at the side of the stream is the champion of them all, Wuyi has been cultivating Immortals since the ancient times.
In the Song Dynasty, Wuyi Tea was made into tribute tea cakes known as the Dragon and Phoenix tea cakes, using the finest buds.
In Ming Dynasty Wanli Year records 《建宁府志》, tribute tea from Wuyi has been recorded to be 548 Jin in weight.
In Qing Dynasty, Emperor's Qianlong's writings in 《冬夜煎茶》, he wrote that amongst all the agricultural tribute items, the Wuyi Tea tribute was the best.
Wuyi Tea has also been recorded to be one of the first "oolong" teas to have appeared in China, and Meng Ding tea plants of Sichuan was recorded to be from Wuyi origin as recorded in 宋/孙渐《智矩寺留题》; 《四川名山县志》.
Wuyi Tea is also the ancestor of many taiwanese teas, most notably, Dong ding Oolong, where Lin Feng Chi transplanted 36 wuyi green heart oolong plants to Nantou, Dongding in the 1850s.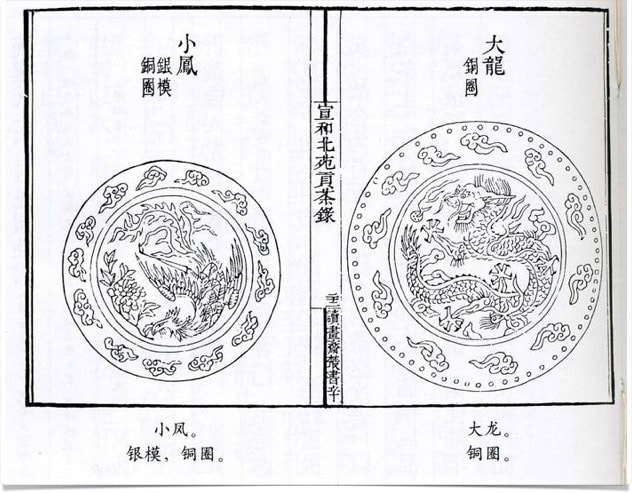 Apart from that, Wuyi Tea had also gone to Europe. In East India Company records, Bohea tea was recorded to be traded since 1610.
Bohea is the fujian dialect pronunciation of Wuyi. The love of tea by the russian king and the nobility had also led to the establishment of Kyakhta as an important trading post, where tea was transported over 5000 kilometres to this russian border to be traded for good profits. The desire for Wuyi's Tea had also let to unfortunate events in the history of China, like that of opium abuse etc, but lets not go into that here.
On the Naming of Wuyi Teas
Many people are extremely confused by the varied namings of Wuyi Teas. Ever since the Song dynasty, there have already been practice of naming teas that were made from single trees. Just from a simple region in Hui Yan, there can be over 830 types of Cliff tea (based on the names), and at least 286 of these teas are named after flowers. In actual fact, the naming of Wuyi Tea is quite simple, they go by the following categories :
Naming by the environment that the tea tree grows in, i.e. Bu Jian Tian (does'nt see the sky), Shi Jiao (rock edge)
Naming by the shape of the tea tree : i.e. Zui Hai Tang (drunken crab apple), Yi Zhi Xiang (stick of incense)
Naming by the shape of the leaves : Gua Zi Jin (Golden melon seed), Zhu Si (bamboo slivers), etc
Naming by the leaf color : Bai Qi Lan (white orchid), Hong Haitang (red crab apple), Da Hong Mei (big red plum) etc
Naming by how early/late it sprouts : Ying Chun Liu (willow that beckons spring), Bu Zhi Chun (Doesn't know that spring has arrived)
Naming by the tree's age and era : Zheng Tang Shu (Proper Tang Tree), Song Yu Shu (Song dynasty jade tree) etc
Naming by the fragrance profile : Rou Gui (Cinnamon), Bai She Xiang (White Musk), Ye Lai Xiang (tonkin jasmin), etc
Naming by legend : Da Hong Pao, Shui Jin Gui, Tie Luo han, Ban Tian Yao, Bai Mu Dan etc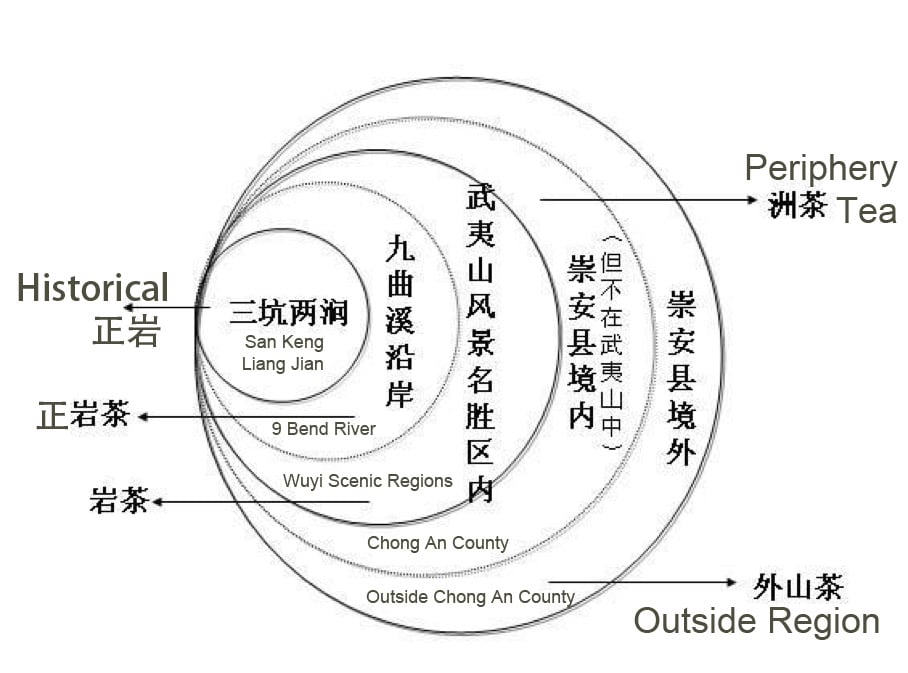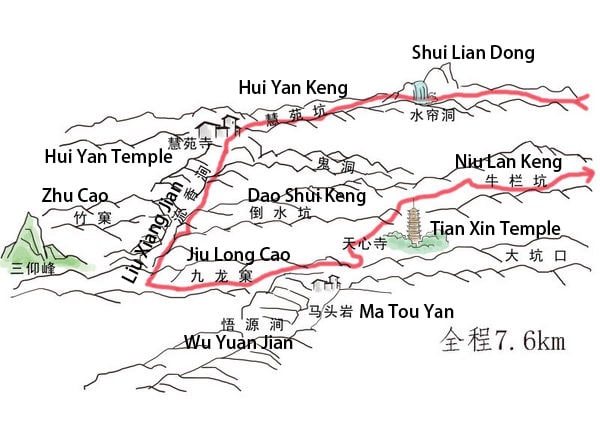 On the Boundaries
If you are a seasoned tea drinker, it would be rather common to encounter terms like Zheng Yan, Ban Yan, when it comes to Cliff Tea, these terms mean either Proper Cliff Tea, or Half Cliff tea etc. So what actually does this mean?
The boundaries have been expanding, but if one were to take the most "historically correct" definition to cliff tea, the most orthodox and premium teas are strictly produced in a short 7.6km stretch, commonly known as the San Keng Liang Jian (Three Crevasses and Two Mountain Streams), which comprises of the Hui Yan Crevasse (Garden of Wisdom?), Niu Lan Crevasse(Cattle Pen), Daoshui Crevasse (Pouring Water), the two mountain streams, the Liu Xiang Jian (Flowing Fragrance), and the Wu Yuan Jian (Origin Enlightenment), and two "nests", the Zhu Cao (Bamboo Nest) and the Jiu Long Cao (9 dragon nest).
You might ask, why so strict on these regions only? That is because these locations provide the most unique and optimal environment for tea, and tea, being a mirror, reflects the unique characteristics it gets from the environment.
Over the years, boundaries are challenged and expanded, and now Zheng Yan tea refers to tea that is being grown along the 9 bend river, and Half Yancha refers to tea that is being grown within the Wuyi Scenic Region. Due to the huge demand for Wuyi Teas, tea cultivation has expanded to the Chong An County and to other areas outside of the Chong An County. These are considered periphery tea from the outer regions.