We all know that the dissolved ions in water, i.e. iron, sodium, potassium, chlorides, carbonates etc affect the taste of the water. But apart from the usual chemical composition of water, there's another lesser discussed aspect that also affect water and its taste, the physical structure of water!
Water's chemical formula is H2O, which means there are 2 hydrogen atoms covalently bonded to an oxygen atom. Some would assume that in a single cup of water, the water molecules are all happily on their own as individual particles, like a cup of sand if each water molecule is represented by sand grains.
However, in reality, water molecules do not usually exist as individual particles, instead, they interact with each other through a phenomena known as hydrogen bonding, and this hydrogen bonding brings about many of water's properties.  As an analogy, if a human being is a water molecule, then water exists as a huge population of people holding hands (and even feets) with each other.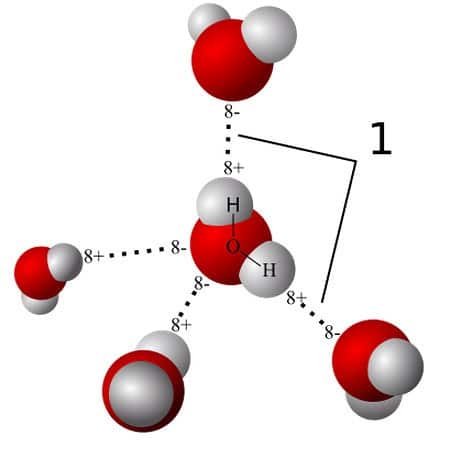 Hydrogen bonding between water molecules.
Water is densest at 4 degrees Celsius. At this temperature, using the same human being analogy again, they come together very closely to keep warm, this reduces overall volume for the same mass, and thus bring about a density increment. In large lakes, oceans, cold water tend to sink, with the warmer water floating above it, generating a "gradient". When water is frozen, the molecules are forced into a rigid lattice packing structure that expands overall volume for the same mass, bringing about a density decrease, so ice floats on water!
In the boiling of water, such "gradients" can be observed if one had attempted to watch the heating of water. There will be swirls/layers in the water which disappear or decrease once a full boil has been achieved, and if the boiling stops, the water is allowed to cool, these swirls re-appear momentarily again.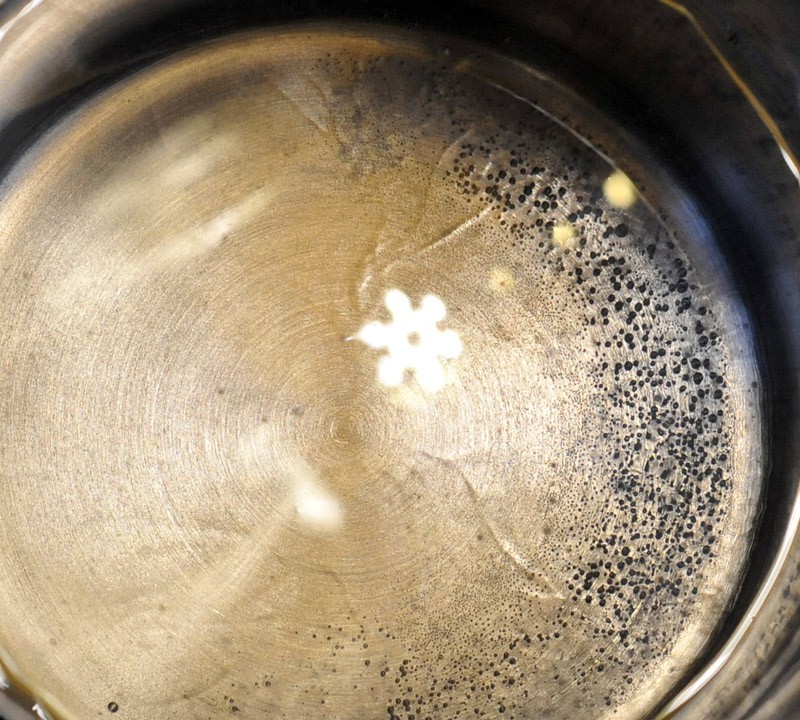 The swirls of the different "layers" of water as the water is being heated.
Water is not entirely homogenous! Maybe with a torch light you could also try to see if you can observe the same swirls when you are heating your water!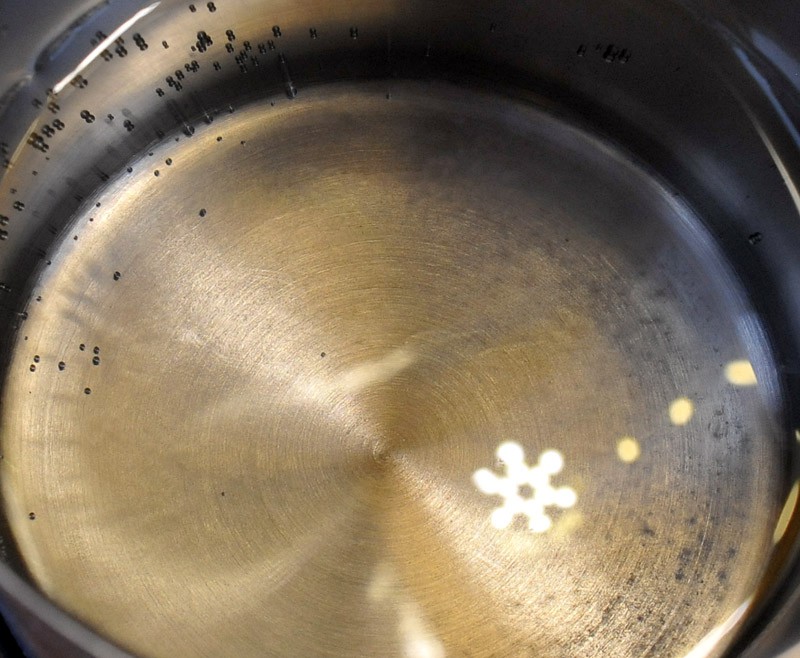 This is the same water as above but just after it had reached a rolling boil, heat was turned off. You can observe certain fluffy looking "layers" forming in the water, appearing to give it a texture of some sort.
In Luyu's Cha Jing, there is a sentence that goes :
其沸,如鱼目,微有声,为一沸;
缘边如涌泉连珠,为二沸;
腾波鼓浪,为三沸。以上水老,不可食也
————《茶经》
In translation : When boiling water, if the bubbles are the size of fish eyes, with a bit of sound, this is the first boil. When the water at the sides have pearl sized bubbles like a full/energetic spring, this is the second boil. When the water is raging like stormy turbulent waves, this is the third boil. At the third boil, the water is considered old, and should not be used. – Lu Yu Cha Jing
This step in Luyu's ChaJing is adopted and integrated into Chaozhou Gongfu tea where water from the second boil (fish/crab eye bubble phase) is used to make tea. Prolonged boiling or old water is not recommended.
There are a few reasons behind this.
1)      If you boil the water too intensely for too long, you break a lot of hydrogen bonding, there will be smaller "clumps" of water molecules. If you remember from an earlier article, water needs to enter the tea leaf, dissolve tea compounds, and allow these compounds to come into the brew. There is a possibility that "old" water, having more free water molecules and smaller clumps, able to enter leaves more easily, and dissolving too much bitter compounds.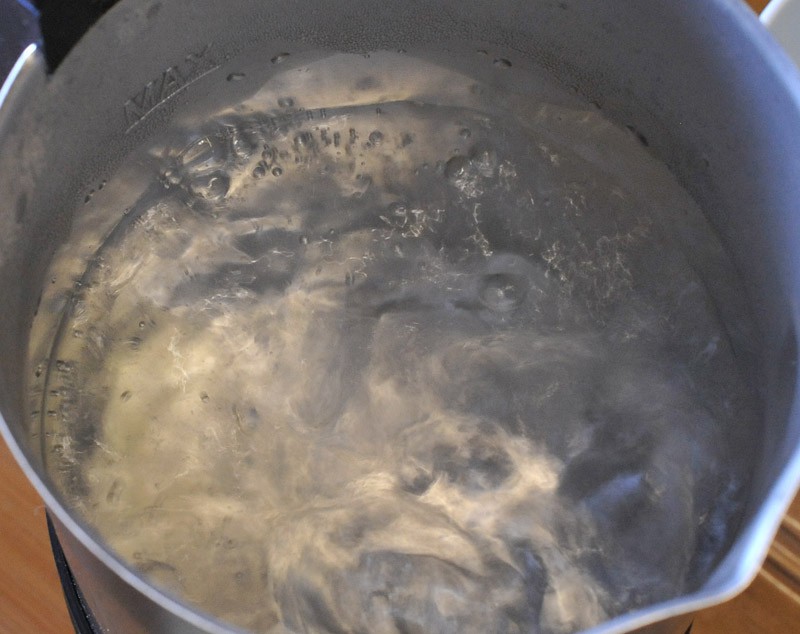 Air Escaping from water as it is being boiled very rigorously
2)      Water for tea is best aged. It is no secret, people have special fancy clay jars, purion containers, dragon themed gigantic water pots etc. Carbon dioxide and oxygen from the air dissolves into water over time, with the carbon dioxide in water as hydrogen carbonates. The taste of the water changes in this aging, and the oxygen content may also be useful in "oxidizing" the tea during the brewing process to create a better tasting brew. IF you boil the water too intensely for too long durations, air is lost from the water. If you rear a gold fish in boiled water that has been cooled, the fish will fall sick or may die as there is a lack of oxygen. Oxygen in the water plays a role in gentle oxidation of the brew (the more oxidation the less bitter, less astringent usually).
3)      Water Texture. Part of tea is all about the texture on the tongue and the mouth feel. I personally find that water that has been too rigorously boiled tastes flat, rough, uncomfortable. The same water gently boiled on an alcohol lamp tastes thicker, smoother with a fuller mouth feel. This may be possibly because of our tongue/mouth sensitivity to the hydrogen bonding state of the water. Our mouth is also sensitive to temperature gradients and shapes, which may also explain why water boiled in different kettles have different tastes and effects on the tea brewed, apart from the chemical aspects.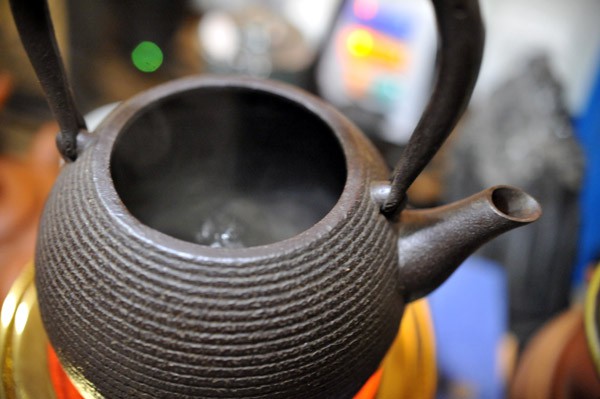 A really cute suzuki morihisa tetsubin (400ml size!)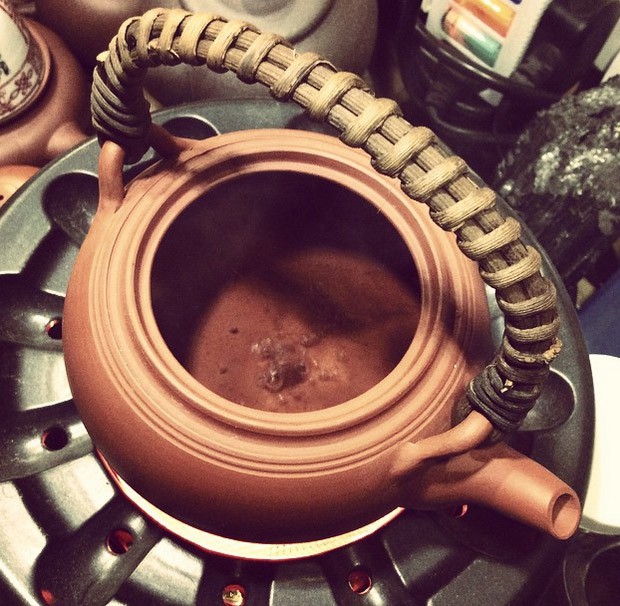 A vintage tokoname teapot being used to boil water. I find it excellent, but risky, since this material is very brittle and softer than zhuni due to its age.
This article will have more implications in the following upcoming posts :
Teapot versus Gaiwan
Why do tea cups affect the taste of the tea dispensed into it