I bet my website administrator is frowning at me right now. "Short titles to articles! The shorter the better! Clearer!" – she always exclaims at me, whilst frustratedly looking at my bad habit of having overly descriptive titles.
But for this article I couldn't help having an aptly descriptive title- little vials of joy. These oils often find themselves located beside my keyboard at work. They provide happiness, delight, and salvation from the occasional lack of inspirations or the commonly described "creativity/writer's block" that happens to many scientists. Having sampled up to over a hundred ouds to date, none can take the place of the Thaqeel in its role/function in my life. The other sample that came close to it is the Cambodi Royale from AgarAura, and maybe a couple of others are halfway there (whilst many others, not quite). (Note from author : As I'm writing this article I'm sniffing Thaqeel from the vial)
Straight from the vial Thaqeel presents itself with rich assertions, a smooth amalgamation of condensed complexity, just like a mixed bouquet of different flower buds that cannot wait to blossom in a basket of ripe, juicy fruits. It is difficult to describe this feeling when smelling it from the bottle or vial; sometimes words remain inadequate.
A tiny dab of Thaqeel oud on skin starts to unfold itself, just like the petals of a blooming lotus- opening layer by layer to reveal an aged honeyed core reminiscent of how the sweetness of ripe plums is intensified upon drying and aging. Bold yet not overbearing, mature florals weave through the aged honeyed, occasionally leathery richness, slowly transmigrating into a phase of woody, perfumed softness. Silky, deep, like the thick sweet fragrance of wild Cambodian agarwoods, Thaqeel portrays itself in a dignified and stoic manner. It does not have that usual sparkle of green unripe fruits, apples or light immature florals, unlike many of the new generation oils; no shocking barnyards nor hints of fermentation either.
Smell can evoke memories or a plethora of mental images and feelings. Thaqeel creates a sense of calm; it invokes the image of dusk, a setting sun bathing the surroundings with a warm glow that bestows peace and quietness before darkness sets in. An air of stillness emanates with both sincerity and maturity of an astounding depth when you take a long draw in whiff. An old, high lama's blessing. A wise father's touch. It reminds me of the feelings of a father buying a Patek Philippe watch, not because it is for himself, but it is for his son and generations to come- that depth and sincerity epitomized. Inevitably, Thaqeel, to me, is not only a supreme oil solely because of its olfactory profile but also because of the total experience encompassing its olfactory appreciation.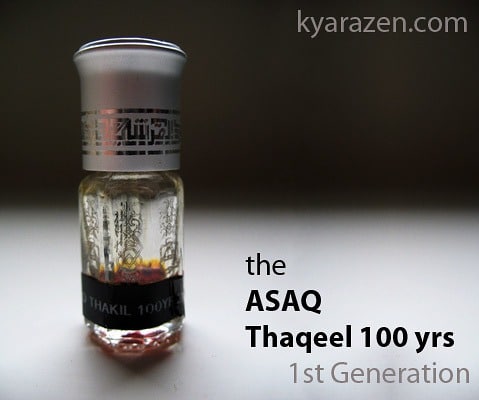 As one of the better, if not the best, ouds of ASAQ, I would like to congratulate ASAQ for having such a fine oil that breathes the quality that embodies the century old history of ASAQ and their commitment towards fine fragrances. This is different from many modern ouds of the recent years- frivolous, superficial, aimless, and unable to present themselves with clarity.
Face it: there are two populations of people in the world- those who like ASAQ's Thaqeel, and those who don't. Some of the flak that the oil has drawn to itself with its popularity, does not diminish my love for it at all.  As a matter of preference and subjectivity, some like super strong barnyards whilst others, who cannot stand even the tiniest bit of it are ready to fling a fecal oil through the window.
In a positive light, having people who do not think highly of  Thaqeel is not a bad thing: it could reduce demand and not lead to price inflation or scarcity. But reality proves otherwise. I have been informed that this particular batch of Thaqeel is no longer available in shops since late 2009, having been replaced with another batch/distillation just as I wanted to obtain a bit more to keep. It fills me with sadness, but also with immense gratitude, to the people who have made it available to me. This Thaqeel has seen a phase of price inflation, scarcity, and subsequent extinction in shops, which means that there are many who appreciate its qualities enough to take it off the shelf.
If anyone is able to find a cheap alternative, be it from Trat, Phnom penh, Koh kong, or wherever, made of whatever kiến/ sien/sieah, cheelam, keeeenam and blah woods, that has the qualities of Thaqeel, please feel free to contact me! I will be eternally grateful! So will the many other ardent fans of the ASAQ Thaqeel!