Having received many enquiries on the identity of that mysterious drop of oil that I always sent out in packages, i.e. together in the package of the a few lucky purchasers of the Subitism heater, I thought I would push forward this write up, which was scheduled to a very much later date as it was an article that was less educational than other write ups that I could have written about agarwood/kyara etc.
*   *   *   *   *
Mr Lee's Medicinal Hall is an amazing paradise for agarwood. Established since 1934, second generation owner and chinese doctor by profession, Mr Lee is 81 this year, although he looks 30 years younger. There must be some secret in Chinese medicine that he knows, and that many of us had yet to discover.
An antique, jade and agarwood collector for most of his life, we often found bits and pieces of treasures in his shop, particularly old stock agarwood that he had never classified, identified etc, stuff that he had left lying un-noticed and forgotten in his storages. There were many times I was particularly impressed by the quality of some of agarwood pieces he has in storage, be it from cambodia, to assam, or indonesia. One highlight was this whole solid piece of wild agarwood, beautifully intact, with natural cavities, good resination, and most importantly, excellent fragrance. Definitely museum quality stuff.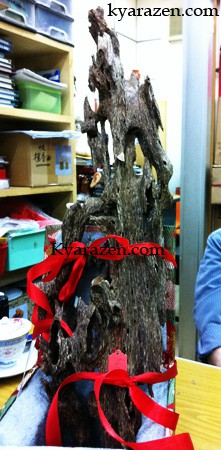 There was once when his staff was sweeping the floor underneath the shelves in his storehouse and swept out a 15 gram glob of sinking agarwood, which was later identified to be from Cambodian/Vietnamese origin. I had since jokingly volunteered to help Mr Lee clean his storehouse.
"Do you have any agarwood oil?" – I casually asked Mr Lee one day, after having read so much about how lovely oud oil is on online media, but never really smelt many good ones myself. Mr Lee looked at me, paused and thought for a while, nodded and went into his chinese physician room where he usually sees his patients. I could hear piles of books being moved, cupboard doors opening and closing, in a few minutes Mr Lee re-appeared with a dusty yellow cardboard box from which he pulled out a bottle of thick viscous liquid. My eyes glowed.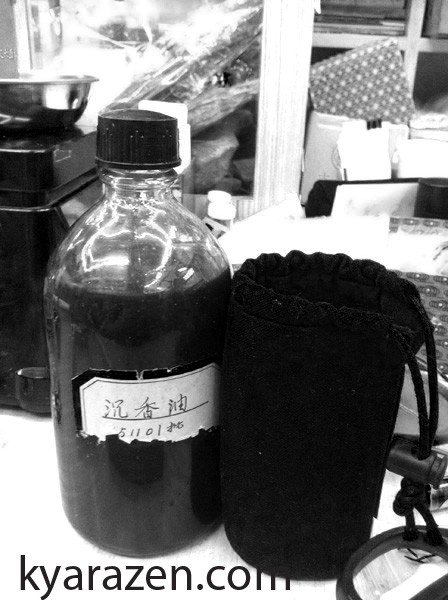 "Agarwood oil 100%! No one has seen before!" Mr Lee proclaimed. Several staff of Mr Lee's, having worked for him for decades, were also surprised. Mr Lee had never taken it out to show anyone, nor talked about its existence. One of his staff commented that I must be really fortunate to have been shown this, not even his closest staffs were ever given a chance. True enough, I had become really good friends with Mr Lee through our hobbies, the pursuit of knowledge and information was what both of us shared a common goal in, and we had been tirelessly discussing and learning from each other, often debating about the possible usages in traditional chinese medicine.
Pointing at the bottle, Mr Lee said, it was from 100kg of wood, distilled in 1985, a theoretical yield of at best under 1%. There was still an aged, flaking label on the bottle with the date, saying 85-11-01 batch (1st of November 1985). Trying to contain my excitement, I gingerly tried to get the cap and the protective plug off. It took quite many minutes, the silence and anticipation was not helped by the extremely tight plug on the bottle which I had to twist, turn and pull in a circular fashion bit by bit, hoping that the 27 year old plug does not break.
"FWOMPK!!" the plug came out. Like a genie coming out of a magical lamp, I was overwhelmed by the fragrant notes that hit me. Time stopped. I could no longer hear the ticking of the wall clock nearby, the hustle and bustle of the environment faded into a light faint high pitch hum of silence, everyone around me disappeared, and it was just me, the fragrance enveloping me in the present moment, like a Gregorian choir in a vast empty stone cathedral. Another of Mr Lee's friend who was also present prodded me, returning me to reality from my dream state.
"太好了!! (very good!)" I told Mr Lee. With his permission, both his friend and I took a tiny dab of the oil and applied it on our wrists. It was captivating. The scent profile of this was thick, rich, and was exactly like heating of sweet heavily resinated agarwood chips lightly the Japanese Kodo way. I was very kindly given a small sample by Mr Lee, which I had divided into little tubes to be shared with others.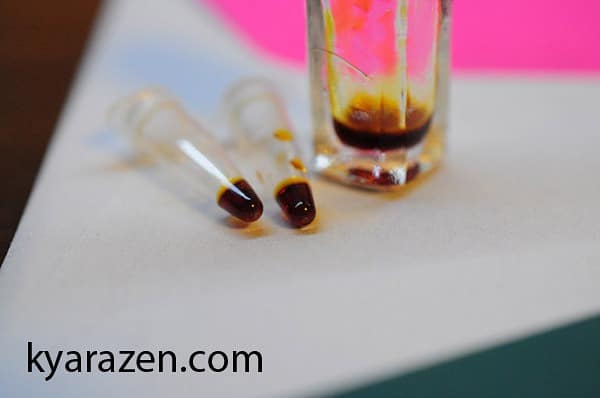 At a later date, Mr Lee also show me some wood chips that were samples of the exact wood batch used for extraction in the 1985 oil. Beautifully resinated chips, glistening with aromatic resin. I asked Mr Lee, how much the chips had cost him back then. He said that in the seventies, a kilogram of this was only fifty to a hundred dollars. He was willing to send off a huge amount of stock for oil extraction as it didn't seem ridiculously expensive at all then, and agarwood was not very fast moving Chinese medicinal stock, unlike other Chinese herbs.
To reproduce an oil of this caliber today can be prohibitively expensive, fueled by escalating agarwood prices, and the extinction of high proper high quality materials. A regular customer of Mr Lee, a Chinese agarwood trader from southern china, had made an offer for the whole bottle of oil, but Mr Lee, had kindly rejected the deal for the time being despite it was a quick way to cashing out a substantial quick profit. If this bottle had gone to China then, it would never re-surface. It will be in the hands of some rich businessman whom would swath the oil overly luxuriously with less regard to possibly how rare and precious this irreproducible oil is.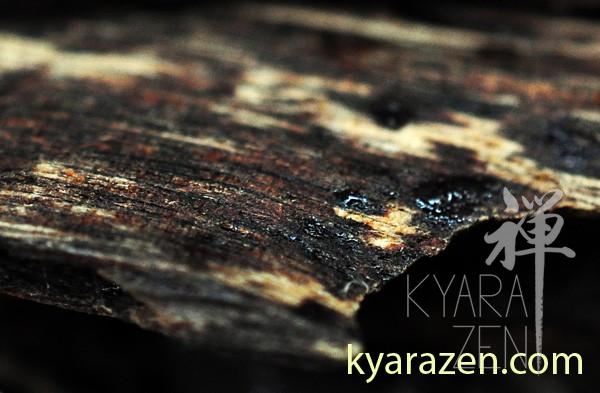 A legacy in itself, an oil with 27 years of aging, rich, resiny, noble, benevolent, peaceful with absolutely no still notes. The Kyarazen Oud 1985. Both Mr Lee and I are not agarwood oil distillers nor are we involved in this trade at all. It was by serendipity, that this bottle of oil, which was meant to be for traditional chinese medicine use, was left unused till today, all in its full purity.