Apologies again for the slow posting this week, been extremely busy with offline activities and several local incense events etc
Perhaps just for a breather, I thought I could have a little detour by writing something on pu-erh tea.
The internet is abuzz and obsessed with pu-erh tea. If you go onto some popular forums like teachat, badger and blade etc you will be surprised at the quantity and intensity of the postings on pu-erh and the various appreciations.  I was once really interested in tea, and had kept a bunch of pu-erh tea in 2003, after which i had felt and seen the quality decline in 2004-2005 which ended my interest. After the collapse of pu-erh in the chinese and international market around 2005-2006, I did not re-enter the hobby (unfortunately!), there were many excellent tea cakes that were made since then.
What is the magic of pu-erh tea? In principle it is a green tea, compressed into a cake, and allowed to age over time. In the process of aging over the years, up to two decades, it oxidizes and develops new characters and tastes. There's another form of pu-erh tea which is the ripe version or black tea version that is industrially oxidized, pu-erh tea heaped into large piles, sprayed with water and allowed to ferment for a week or two, a technique developed in 1973.  That yields a mellow, earthy brew, however in the past decade, the lack of quality control etc, unhygienic conditions, there's just too many bad tasting, foul smelling black pu-erhs on the market that  I do not touch a single drop of black pu-erh tea at all.
Amongst the tea cakes I bought in 2003, there was this 1 kilogram first bud of spring tea cake. The tea shop owner strongly recommended this 1 kilogram tea cake said to be made of the best leaf material, superb for aging etc. Being not very well experienced then, I trusted him and decided to purchase a piece. It was $150/1kg then, with low pu-erh prices back then , this was considered very expensive. I could have bought 3 pieces of Da Xue Shan or similar at that price.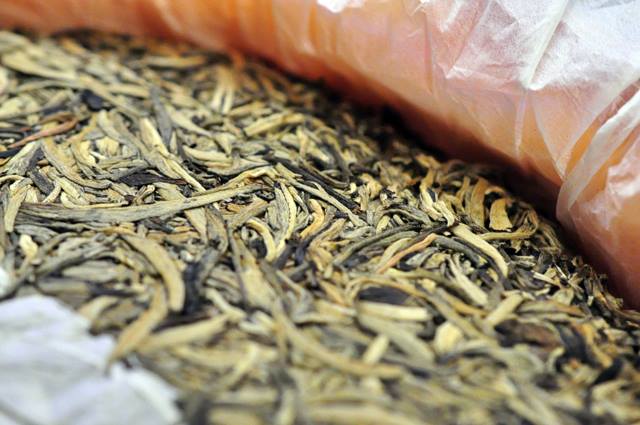 So after 10 years of aging, and after returning to the pu-erh hobby, I dug it out and felt something was amiss with this tea cake. It had lost its original luster. After brewing some, it confirmed my suspicion. The silver buds on the tea cake were not pu-erh tea. It was more like a bai-hao yinzhen, silver needle variety of tea leaf. The brew was thin, fragrance was weak.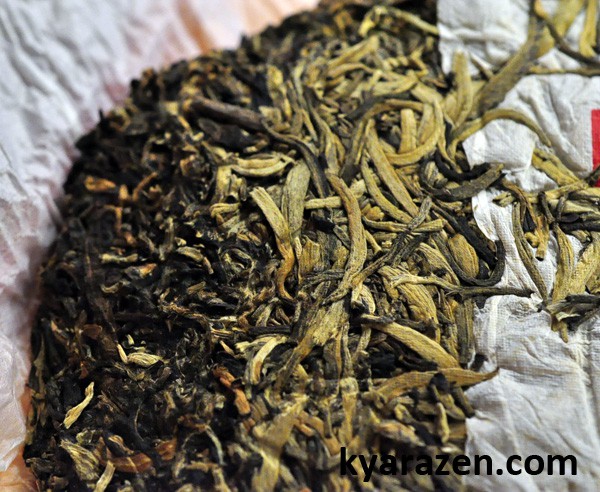 Upon further investigation, I broke the tea cake into half, and the truth was revealed. Beneath the silver needle like leaves, is a darker, harder mass of compressed tea leaves that are not silver needle grade. You can call this a 'fake' or 'adulterated' tea cake. The manufacturer had placed a thin layer of silver needle leaves, thrown on a big bunch of lousy grade tea leaves followed by another sprinkling of silver needles leaves before the tea cake was compressed. This gave consumers the idea that it was a superb quality tea cake, looks good etc, but the core's crap.
10 years of aging and the cake is not worthy of drinking at all. So caveat emptor, if one is now deciding to keep some green pu-erh tea cakes for careful aging, choose carefully and choose wisely. Don't end up having nothing to drink after having invested the time. The teashop i had bought the cake from was in a tourist area of Chinatown, its perhaps… touristea indeed.